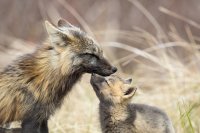 Are you interested in learning:

• How to take artistic wildlife photos
 • How to take into consideration perspective, composition and bokeh when photographing wildlife
• How to approach wildlife photography ethically
• How to take "storytelling" photographs of wildlife instead of simple snapshots
• Facts and info about local Prince Edward Island wildlife
Join acclaimed Atlantic Canadian wildlife photographers Brittany Crossman and Dave Brosha as they immerse you along with a very small, limited-size group for three days exploring the wilds and wildlife of Prince Edward Island!
Workshop: Island Wild 
Max participants: 8 
Dates: May 28-30, 2021
Cost:  $1450+HST ($750 Deposit needed to book in, with balance due by Jan 15 2021)
Includes:  instruction and transportation.  Accommodation and meals not included.
Note:  by signing up participants agree to sign a disclosure agreement on the location of any spotted wildlife to protect fragile wildlife habitat.

Itinerary  (* note - tentative schedule with exact timing/details subject to change)
Friday, May 28:
 10AM-noon:  kick-off, "The Brosha Barn", Long Creek , Prince Edward Island.  Slideshows + presentations + classroom learning
12PM-2PM:  lunch break and relocation to location #1
2PM - 8PM:  field shooting, various locations across Prince Edward Island
Saturday, May 29:
8AM-11:30AM: field shooting, various locations across Prince Edward Island
11:30PM-2PM: lunch break and relocation to location
2PM - 9PM: field shooting, various locations across Prince Edward Island

Sunday, May 30:
8AM-11:30AM: field shooting, various locations across Prince Edward Island
11:30PM-1PM:  group brunch
1PM - 3PM: group editing, slideshow, and critique/finale


What to expect

The workshop is suitable for participants of all levels of experience in photography. Most locations will be readily accessible from the road, although we may hike short distances on occasion.

This event focuses on wildlife photography as a whole; while wildlife sightings can never be 100% guaranteed, Brittany and Dave will use their extensive island wildlife experience to try to ensure some great sightings.  
What to Bring
This will be a "rain or shine" event. Weather in May on Prince Edward Island is generally beautiful but there is, of course, the chance of rain storms, wind, bugs, and hot, hot sun. Please come prepared, accordingly, for all weather conditions.


Please bring:

• suitable and comfortable clothing, which you can layer
• appropriate footwear

• your own camera equipment (preferably DSLR, which allows manual control of shutter speed, aperture and
ISO settings; bring the fastest lens you have)

• a sturdy tripod or monopod.

• a long lens (70-200MM, 300MM, 400MM, 500MM, or 150-600MM all great potential lenses)
• a laptop for editing (with editing software, preferably Adobe)
About Brittany Crossman:

Brittany is a 4-time Shortlist Contender for Wildlife Photographer of the Year.  Her work has been published by multiple magazines, such as Nature's Best Photography, Canadian Geographic, Canadian Wildlife Magazine, Saltscapes, Outdoor Photographer, National Wildlife, and many more. She's also been featured by National Geographic multiple times via social media.

Brittany is an avid supporter of wildlife rehabilitation facilities regularly offering her photographic skills for photo documentary projects, and donating her work for fundraising auctions. Some of the places she supports are Hope For Wildlife, Atlantic Wildlife Institute and The Canid Project.
If you're looking to visit the Island this summer and learning more about our wonderful wildlife....consider signing up! Again, send me an email and we'll send you the full details once they're released.
About Dave Brosha 
"One of the most celebrated creative photographers in the world" - Nikon
"One of the leading lights in the highly competitive world of North America outdoor photography" - Outdoor Photography Magazine
"Critically acclaimed....spectacular photos." - The Globe and Mail

Holding a passion for the world and an eye for the beauty it contains, Long Creek, Prince Edward Island based photographer, educator, and writer Dave Brosha is one of Canada's most respected photographers.  On a continual journey to seek out and capture the beauty of this world – whether it's the beauty of some of most extreme and pristine environments in the world, or the beauty of humanity, Brosha is passionate across a wide spectrum of photographic genres and avoids labels.  Brosha is proudly a Fellow of the Royal Canadian Geographic Society, is a Sigma Pro Photographer, and is a Strobepro Professional.  He was been photographing wildlife across Canada and the globe for close to 15 years.

Park Pass

A portion of the workshop may be held in Prince Edward Island National Park. The price of the workshop does not include a park pass. You will need to purchase a park pass when you arrive at the entrance to the park. For more information on Parks Canada passes, see http://www.pc.gc.ca/apps/tarif... and Cancellation Policy

A $750+HST non-refundable deposit is required to hold your spot, with final payment due Jan 15, 202`.
Spots are non-refundable but are transferrable (i.e. if the the participant is able to find someone else to take their spot and can sell/transfer the spot to a new participant, this is acceptable).
You can pay the full amount up-front, too, should you choose.