---
---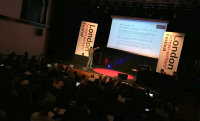 The London Screenwriters' Festival (Hybrid) is an annual three day conference for screenwriters.
In 2021, the LSF will be held at Regent's University London, in Regent's Park, in September, onlongside our Online Festival. Directions to the venue HERE.

* NOTE: Due to Covid the shape, dates, venue and online status of the festival may change at any given moment.
* For the three days, over 1,000 screenwriters, filmmakers, producers, practitioners, actors and executives congregate to share ideas, build powerful relationships, hear pitches and get a creative shot in the arm. 
Most delegates report massive breakthroughs in their understanding of the business and craft, as well as huge acceleration toward their career goals. However, perhaps the most vital part of the festival is the inspiration and sense of belonging you will experience when you attend. Year on year, delegates report that the community at the festival is one of the main reasons they return.