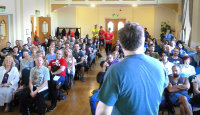 Talent is great but relationships get you hired.
The ability to create powerful new relationships in any given situation is one of the primary factors in the success of your career and that of any screenplay that you write.
Making and maintaining those relationships is what the industry calls 'Networking', and yes, it sends a shiver down the spine of most people.
Yet, 'networking' is an essential skill to master and arguably the biggest hurdle you must overcome in order to find the success your hard work deserves.
That's why we have created this one day workshop in the run up the London Screenwriters Festival called 'Networking Tuesday' aka the Film and TV Networking Masterclass. We know how important it is and we are committed to you getting the most from the upcoming festival. You don't need to be a delegate at the festival to attend. 
Date: September 7th 2021
Time: 9:30am – 5:30pm
Place: Regent's University in Regent's Park, London
Tickets: £48.50
Remember, the people who could buy your script are really buying into you. In order to do that, they have to first know you, second they need to feel like they can work with you, and finally they need to love your work. And their decision making is in that order.
Don't be that writer who thinks their work is SO good, they can stay home and hide behind the laptop and wait for that call or email. Take control of your destiny, overcome your fear and learn with us how networking can be FUN!
'Networking Tuesday' will help you overcome any nerves and put you in a state of unstoppable confidence.
Your outcomes
Deconstruct your fears and destroy them once and for all.
Learn proven tactics and strategies that get results in the room.
Learn how to leave, not just with a card, but with a lasting desire to continue the relationship.
Learn the different networking styles for different people, places and opportunities.
Timing – when it's appropriate to pitch your project and when it's not.
Highlight weaknesses in your networking style, and offer immediate feedback and solutions.
Give you tons of practice – and practice makes perfect!
Learn how to engage through the art of listening, mirroring and being your authentic self.
How to pitch without pitching.
Turn your fear into FUN! You will leave chomping at the bit to dive in and start creating new relationships.

Using real life examples, practical exercises and role play, this practical workshop will set you up for your outstanding festival experience and equip you with all the tools you'll need to network any room, at any time, with anyone.
Date: September 7th 2021
Time: 9:30am – 5:30pm
Place: Regent's University in Regent's Park, London
Tickets: £48.50
Feedback from Networking Tuesday

'Fired up by this training, I actually pitched to an agent two days later – in a situation where it certainly wasn't obligatory and where normally I would have shrunk back – and she asked me to send hermy book!'
Julian Margaret Gibbs, Writer

'The energy generated in the workshop was sustained throughout the whole LondonSWF weekend. What a fabulous way to establish an early connection to fellow delegates'
Sue Law, Writer
'Networking Tuesday was one of the most helpful and informative courses I've ever done. I felt so much more confident in not only my networking abilities but my screenwriting abilities as a whole.'
Zoe McDonagh, Screenwriter
'Superb value and a must for anybody who thinks they hate Networking'
Matthew Budge, Screenwriter
'It was a day full of useful insights, humour and infectious joy. The best networking day I've ever been to.'
Phil Croxall, writer
'The workshop has taken the fear out of networking for me. I've discovered it's actually everything you don't think it is: easy, fun and emotionally rewarding.'
Kristina Day, TV writer
'I'm leaving with tools and passion. Couldn't ask for more.'
Melanie Mahdessian, Screenwriter
'What a great start to packed LSF Week'
Anthony Cox, Screenwriter
'I was surprised how effective it was.'
Phil Peel, filmmaker, writer
'I didn't want to go but I'm really glad I did because it was so much fun.'
Amy Amani, writer
'The world would be a better place if everyone was forced to do this course.'
Fiona Tuohy, writer
'As always the team at LSF have delivered a really great hands on training session. I first came to LSF in 2012 and never spoke to anyone all weekend as my fear of people was so great. Today I've not only got friends in the room but made lots of contacts with other people too.'
Sarah Cassidy, writer
'Excellent speakers and information imparted with enthusiasm and generosity of spirit. I highly recommend this workshop to writers and other industry professionals'.
Patricia Jenkins writer