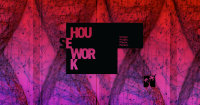 1 ICONIC VENUE. 14 LEGENDARY DJS. 2 ROOMS AND 10 HOURS OF NON-STOP HEDONISM.
We know what gets your pulse racing, your feet stomping and your arms up in the air. So for this underground celebration of sound we have gone all out to bring you an unbelievable line-up in a very special place. In true HOUSEWORK style, we present IT'S IN YOUR DNA (Day. Night. Altogether) at the place that is EGG.

Those that know won't need an introduction to EGG. It is a club that speaks for itself… playing host to some of the music industry's hottest talent over the years. On the 28th November we plan a full on HOUSEWORK take over with 10 hours of daytime raving across 2 rooms of beats that are guaranteed to get your blood racing and your heart beating out of your chest.

Injecting the vibes directly into your veins in the XX ROOM are the legends that are SEB FONTAINE, JON PLEASED WIMMIN and K-KLASS along with our awesome residents, MATT MAY, GARY SIMPSON, LOUIS M and PAUL REID who will be tearing up the HOUSEWORK dance floor.

In the XY ROOM it is DISCO-TECH time as we kick things off with HW debutant JEZ MARTIN before our HW resident MARCUS DRYDEN lays down the funky/disco house beats he is fast becoming renowned for. GLEN MANLEY is up next as the beat starts to get a little bit more intense as afternoon turns to evening. JODI stepping in next & then we totally lose control with the brilliant TENACIOUS closing out the party.

This is a party that the EGG dance floor is going to remember for a long time. You DO NOT want to miss it.
Whats For Afters?
You didn't think the party would stop at 10pm did you? The party continues when 300 lucky ticket holders go upstairs to the LOFT where JEREMY HEALY headlines the 'IT'S IN YOUR BLOOD' and the vibe continues all the way through to 5am.

Tickets are limited – so don't hang around. Book the babysitter, the Monday off work for recovery, cancel all other plans and organise your friends… mark the date in your diary SATURDAY 8TH MAY 2020 and get ready for something very special.
Housework…it's ALL about UNIQUE PEOPLE. PLACES. PARTIES.
See you there you sexy lot x
‍
IT'S IN YOUR DNA
Early Bird: £25.00
General Release: £30.00
Final Release: £35.00
AFTERS: IT'S IN YOUR BLOOD
Early Bird: £15.00
General: £20.00
Disclaimer: Housework and/or it's directors cannot be held responsible for cancelled, postponed or altered events or if an artist, act, performer or DJ cancels their performance.