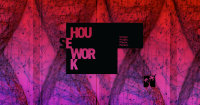 1 ICONIC VENUE. 14 LEGENDARY DJS. 2 ROOMS AND 10 HOURS OF NON-STOP HEDONISM.
We know what gets your pulse racing, your feet stomping and your arms up in the air. So for this underground celebration of sound we have gone all out to bring you an unbelievable line-up in a very special place. In true HOUSEWORK style, we present IT'S IN YOUR DNA (Day. Night. Altogether) and the AFTERS: IT'S IN YOUR BLOOD at the place that is EGG.

Those that know won't need an introduction to EGG. It is a club that speaks for itself… playing host to some of the music industry's hottest talent and nights over the years. On the 3rd July we plan a full on HOUSEWORK take over with 10 hours of daytime raving across 3 rooms of beats that are guaranteed to get your blood racing and your heart beating out of your chest.
Injecting the vibes directly into your veins in the XX ROOM are the legends that are SEB FONTAINE, JON PLEASED WIMMIN and K-KLASS along with our awesome residents, MATT MAY, GARY SIMPSON & LOUIS M. PAUL REID & STEVIE B also join us to help tear up the HOUSEWORK dance floor.

It is DISCO-TECH time in the XY ROOM. Expect the usual daytime funky disco to night time dirty beats as we take you on another HOUSEWORK blood rushing, head popping musical odyssey with the usual suspects MARCUS DRYDEN, SCOTT J and WAYNE A. Joining them will be returning favourites MNLY, JODI and HW debutant JAY BEATZ. Closing out IT'S IN YOUR DNA XY ROOM in the only way they know how will be the one and only TENACIOUS.
And we are not finished there...
WHO'S UP FOR SOME AFTERS: IT'S IN YOUR BLOOD?

You didn't think the party would stop at 10pm did you? The party continues in true HOUSEWORK style for those lucky enough to grab an afters ticket.
Not 1, but 2 very special rooms of goodness, both filled with some serious and well established talent and new kids on the block who are going to take you right through to 6am and the first train home, or perhaps the After the Afters… who knows ;)
XXXY // HOUSEWORK (MIDDLEROOM)
An amazing talent backed by Toolroom Records and Pioneer DJ and has been a long time on our wish list… We are so happy to announce DEVSTAR will be headlining our AFTERS: IT'S IN YOUR BLOOD. Next up is EIBHLIN FLYNN who cut her teeth at HED KANDI back in the day followed by the brilliant HUCK FINN, PHILGOOD ANDRAM (Unity DAB), NICO AND DEAN (of Bagley's fame), and not forgetting the boys themselves MATT MAY and GARY SIMPSON.

XXAG THE LOFT // SWAG EVOLUTION TAKEOVER
As a new addition to the AFTERS – we have teamed up with the brilliant SWAG who will host the XYAG ROOM and inject their TECH derived DNA directly into your waiting veins. We promised something different For this one. The big one we have been waiting over a year for.

Headlining XXAG will be the amazing and mysterious Wh0, (the freshest and fastest rising DJ/Producer partnerships in the UK right now). Along side them will be CHAPTER AND VERSE, serving up their usual Tech House sounds, rising star TIME OFF new DJ of the year RYAN WILLMOTT, Catch's ROB MOORE and of course the Swag Heads themselves – ANDY SKILLZ & DEANO B who will be smashing up the dance floor as only they know how.
THIS is a party that the EGG dance floor is going to remember for a very long time. You DO NOT want to miss it.
Tickets are limited – so don't hang around. Book the babysitter, the Monday off work for recovery, cancel all other plans and organise your friends… mark the date in your diary SATURDAY 3RD JULY 2021 and get ready for something very special.
Housework…it's ALL about UNIQUE PEOPLE. PLACES. PARTIES.
See you there you sexy lot x

‍
PRICES FROM
IT'S IN YOUR DNA
Early Bird: £25.00
General Release: £30.00
Final Release: £35.00
AFTERS: IT'S IN YOUR BLOOD

Early Bird: £15.00
General Release: £20.00
Final Release: £25.00

Please check the small print here for terms & conditions.
Disclaimer: Housework and/or it's directors cannot be held responsible for cancelled, postponed or altered events or if an artist, act, performer or DJ cancels their performance.