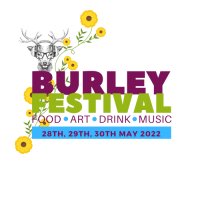 BURLEY FOOD & DRINK FESTIVAL 2022
Burley Festival 2021 - Public Announcement
What a year we have all had, which nobody could have predicted!
Well, we have had endless hours of discussions and after a lot of deliberating with the committee, whether to run with The Burley Festival over the May Bank Holiday 2021. We came to conclusion; the most sensible & safest option is not to run with the festival in 2021.
It has been a difficult decision for us, as we were so looking forward to getting back to our field in May and putting on a fabulous event for you to enjoy. Apologies for the delay in announcement but we were waiting on the government road map, to see if the restrictions on numbers would change before the 21st of June, which sadly they have not.
We are however pleased to announce The Burley Festival NEW DATES are to be next May 28th, 29th & 30th 2022. Although it is not a bank holiday, due to the Queen having a jubilee the following week, it is the start of the half term and the end of May always seems to kick start the summer.
If you have purchased a ticket for previous dates, all tickets purchased in advance, will be honoured for the new dates.
Please continue to support local events and together we will get through this, for any more information, please do not hesitate to contact us on burley@mojoevents.uk
Plus, we are looking to finally launch The New Forest Music Festival in August 2022, situated in a beautiful site deep in the New Forest, just off the A35 will be a 3-day quirky camping music festival, with the added attraction of the Wellbeing farmer's market. Watch this space!
Mojo & the Burley Team
#staysafe #supportlocalevents #LoveTheNewForest
BURLEY FESTIVAL 2022
Surrounded by beautiful woodland scenery, the weekend festival celebrates and brings together high-quality local producers for a jam packed weekend of artisan food, drink, artistic creations and the very best local musicians.

Across the three days, Burley's beautiful Manor Park will be transformed by stalls overflowing with local cheeses, meats, artisan breads, and NEW to 2022 - the Roots Vegetable Patch, our organic vegan and veggie corner! Alongside many many more exciting flavours and products to make your mouth water at the thought!
If local gins or ales are your tipple, then you will be in the right place as our local drink producers are bringing samples for you to taste and even savour at home. Come check out our Outside INN Bar, amongst others, offering local ales, ciders, gins and wines. Also for 2022 we are introducing cocktail competitions, showcases from well-known mixologists plus gin workshops are some of the sparkling elements planned for this year's event.
And once you've drank and eaten until your heart content, you can while away a few hours to some fabulous acoustic sounds from our NEW  InTree-Ducing Stage, set under the backdrop of the beautiful old oak tree. The Main 'Haystack' Stage will come to life, hosting a variety of local bands, playing everything from jazz, blues, soul and funk to get up and dance through the weekend.
It's not all about food & drink, we've  added a designated kid's area - our LIL Scrumpers with free workshops, storytelling, face painters, plus trampolines and castles for the little people to bounce through the bank holiday.
Behind the big oak tree, in a relax ambient setting, you will find the mystic area, inviting you to find your future with one of the tarot readers. 
Find your inner zen or immerse yourself with the enchanting and mystical folk selling local Burley trinkets and keepsakes.
 Around the village the festival is looking to hold a range of activities, such as a window display. trails and competitions for children. The Festival wishes to enhance people's experience of Burley by encouraging people to visit shops and businesses, partaking in all the forest has to offer.

Local artists will be showcasing over the weekend in our Forest Craft Marquee, with workshops that can be booked for children and adults looking to expand their skills.
If that wasn't enough, the vintage arena will have a variety of vintage cars, clothes and collectables.
Saturday 28th May 2022- 10.00 - 19.00
Sunday 29th May 2022 - 10.00 -18.00
Monday 30th  May 2022 - 10.00 -17.00
***Please Note*** You are not permitted to bring your own food & drink into the festival site. (We have lots of lovely traders)

***We strongly advise, if coming by car, to purchase your car park ticket in advance, to avoid congestion or queuing***

Dogs are welcome, as long as they are kept on a lead. 
Bring a blanket and enjoy the day
For more Info - please email burley@mojoevents.uk
(Please note, there is a 50p transaction fee per booking.)