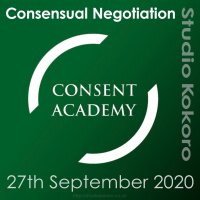 Consensual Negotiation with Consent Academy

The most common mistakes in Negotiation: Everything will work out if everyone has good intent. Join us first for a deeper look. We'll talk about what a good and collaborative negotiation looks like, how to use it to create more safety, where consent fits into all of it, and why just "winging it" sometimes goes very, very wrong. We'll use examples and scenarios to get into the details and help you figure out how to negotiate better.

There's a lot to learn in just 2 hours, so bring your ideas, questions, and an open mind.
You will get the most out of this if you also attend Introduction to Consent on the 20th September.

Presented by the Consent Academy - www.consent.academy
We have 3 ticket tiers for this class, please reserve the Pay What You Can Tickets for those who cannot afford the Regular or Budget tickets, instead of seeing it as a cheaper option. We have added this additional tier of tickets as we appreciate this is essential information for those in the rope / kink community and we want to support access to these classes.

Sar Surmick: Consent Academy Director
Sar brought the Consent Academy together in 2016 as a way to advance consent education in Seattle and across the world. With over 20 years of education experience and a strong belief that consent creates a backbone for safe and productive interactions, Sar has worked with the Pan Eros Foundation (formally the FSPC), NCSF, Camp Ten Trees, and a variety of other organisations to promote and educate about consent. When not directing the Academy, Sar works as a Marriage & Family Therapist specialising in Identity, a Sex-positive Educator, and a writer.
Studio Kokoro Live Terms - Please read before purchasing your ticket
Please read and accept this information about joining Kokoro Live. By purchasing a ticket you agree to the below information:
All events are scheduled for BST / GMT+1 timezone (London, UK Time)
Our classes take place at different times please check the time carefully for each event, even with the same presenter.
If you purchased your ticket via an event on FetLife, please note that FetLife changes the event listing to your own local time. Please use the times given in this ticket. 
Tickets are 1 per house hold (assuming you are using the 1 zoom) if you need 2 zoom windows open, then you will need to purchase 2 tickets.

Budget tickets are for those with low income, freelancers, unemployed, UC holders, and anyone struggling financially.
These are live classes and not recorded, they cannot be viewed after the event itself, please consider this when purchasing.
Tickets are non-refundable / non-transferable to another class - you get the password and room information in your ticket so we are unable to refund / transfer if you cannot attend. Please consider this before purchasing your ticket.
You do not need to turn your video on and all microphones will be muted during the class.
You will need to download zoom (free) to access this class.
If you struggle with timezones, you can use google or https://www.worldtimebuddy.com/ to help with this.
If you have any questions about attending a Studio Kokoro Live Class please see our Frequently Asked Questions Page before contacting us. It is very likely your question may be answered there.
We look forward to welcoming you to this Kokoro Live Class.