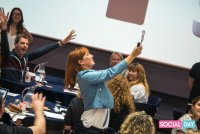 Learn the latest in social media and Influencer marketing from brand and agencies, PLUS takeaway actionable insights and training you can implement quickly.
Join us, gain the edge in social media on topics such as TikTok, Snapchat, Facebook Ads, influencer marketing, Social listening. PLUS network with brands, influencers and agencies at the leading social media digital event taking place 6-8th September 2021 in London.  
What is SocialDay?
SocialDay is the Social Media Marketing Festival started to bring the brightest minds in social media marketing together to share, learn, network and discuss the latest Trends and Updates in Social Media.


Are you a marketer? do you work for a brand or agency? Are you a creator or influencer?
Do you use or want to use Social Media Marketing to grow your brand, drive engagement and develop relationships with those you are trying to reach? Do you already understand Social Media Marketing but are looking for advanced strategies, case studies, creative ideas, connections and advice to give you the edge? Perhaps you want to geek out over the latest industry developments and platform updates.
Now in its 5th Year SocialDay has become known as one of the worlds must attend marketing events.


What do you get?
Attend in person in London 
Street food lunch on all 3 days
Barista Coffee and refreshments 
Access to all of the 40+ sessions, workshops and panels live and recorded post event 
The SocialDay Club App with access to exclusive content, networking, and all of the sessions. (Apple and Android)
Watch all sessions back via the members app.
The podcast is also available to listen to via all major platforms we have interviewed some great guests who have provided some fantastic insights.
Any questions? Email Info@SocialDay.co.uk
About the venue:

UBS & LSO Music Education Centre
161 Old Street
London
EC1V 9NG
A beautiful, contemporary and flexible venue close to the buzzing 'silicon roundabout', the Jerwood Hall at LSO St Luke's is an inspirational setting for SocialDay 2021!
Just a few minutes' walk from either Old Street or Barbican tube station, LSO St Luke's combines the convenience of a City location with the wow-factor of a unique, heritage space. Within the central Jerwood Hall, hints of original 18th-century architecture appear alongside contemporary features to create a stunning setting, with natural light flooding the space through the soundproof windows.