---
---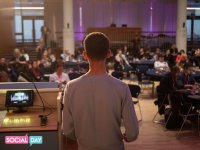 Launched in 2015, SocialDay has always been focused on giving our audience the latest updates and information to help social media marketers do their jobs better. 
Fast forward to today and the event is covering a whole host of topics to keep our social media marketers at the top of their game. Our 2021 festival will be no different. We'll be covering a range of relevant, cutting-edge topics, so no matter what level you're at in your social media career, you'll come away with practical tips that you can implement in your own brands and accounts immediately.
What topics are you covering to help me do my job better?
Just a selection of the fantastic topics we'll be covering this year include:
Social commerce

Talkability for your brand

Making social work with other marketing teams

Paid social targeting in a privacy-conscious world

Copywriting for social media

Content creation

Put your questions to all the major platforms (Facebook, Instagram, Snapchat, LinkedIn, Twitter, Pinterest and TikTok)

Why talking about diversity isn't enough and how to be diverse in your campaigns

How to work with influencers in 2021

Building your next online community

Growing personal brands with key stakeholders

The customer experience - social first

Can you truly make content for a global audience?

The power of TikTok for your brand

How behavioural science will help your social media marketing

Everything you need to know about audio content

Can AI do my job for me?

How social listening can power your customer service to new levels on social media
We also have a selection of fireside chats with key agencies and brands, panel debates and a collection of case studies that show you the good, the bad and what the experts learned along the way with some of last year's best campaigns.
Still not sure if you should book your ticket today?
SocialDay's social media conference is one of the best places to meet like-minded individuals who share your passion for marketing.
Many of our guests have made more than new connections; some have found that next client or that next job, others have even been inspired to start new careers!
Networking is a key part of SocialDay. We always have a great, 'unstuffy' environment where you can learn and network with confidence.
Tickets include:
3 Days Event Entry Access to All Talks .. PLUS 

Tasty lunch on all 3 days (Foodtrucks - no stuffy sandwiches)

Barista Coffee & Refreshments

Access to 2 exciting evening networking and drinks Parties 

CPD Certificate delivered via GradBase post event