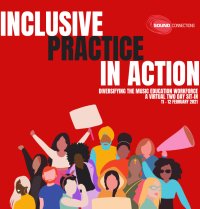 A two day virtual sit-in on diversifying the music education workforce
11th – 12th March 2021
9.30am – 5pm
£20 one day / £30 both days
Subsidised rate for freelance / self-employed individuals: £10 one day / £15 both days
Video recordings (for non-attendees): £5*
Click here for the event format, structure and content. 

The killing of George Floyd in May 2020 sent shockwaves worldwide. It brought to the foreground the incidences of racism and social injustice that many Black people experience daily, not only in the USA but also in the UK. It exposed institutional racism, alongside the conscious and unconscious bias of individuals. Whilst one of many incidences of institutional violence, we were moved by George Floyd's killing in particular for three reasons. Firstly, it came at a time when the world was standing still, as communities went into a COVID-19 driven lockdown. Secondly, its recording and subsequent public sharing increased its visibility, reaching audiences worldwide. Thirdly, it prompted physical and economic protests, forcing those in power to pay attention. It was this powerful combination of space, visibility, and attention that drove global movement.
If we as music education organisations and individuals are to continue this movement and enact long-term systematic change, we need to make genuine space for visible and accessible discussions, and we all need to be involved. We therefore invite you to our virtual sit-in Inclusive Practice in Action to work together to take practical action to ensure music education is inclusive and diverse.
Hosted by Brenda Rattray, this event is an opportunity to pause and reflect on the benefits of embracing diversity and inclusion for music education organisations, practitioners and young people. It will encourage openness and honesty about past and present discrimination faced by Black and brown people, people of colour, white minorities, Disabled people, LGBTQ+ people and women working within music education. It will consider the impact of representation within music education – how music is learnt, what is being learnt and the role models – has on children and young people. It will intentionally broker relationships and conversations that we hope will continue beyond the event.
Sound Connections is providing a safe space to enable this to happen. Come and be part of a community of change: be open to learn, and find out something new about yourself and others, ask questions, explore language, reflect on experiences and take action to move towards a more representative, diverse and inclusive music education sector.
This event is fuelled by kindness. We warmly invite you to join us.
Who is it for?
This event is designed for:
New and potential leaders in music education
PCGE students
Classroom, peripatetic and private music teachers
Community musicians
Early years practitioners
Music Education Hub leaders and managers
Grassroots music organisation leaders, managers and producers
Youth sector staff
Funders
Policy makers
National music education organisation leaders and staff
We particularly welcome individuals who considers themselves a minority, or who have been made to feel 'other', whatever stage of your career you are at. We will support you throughout the sit-in with awareness of your psychological safety, as we recognise topics of discrimination are sensitive and can be distressing.
We also welcome organisations and individuals from across the sector who wish to develop their understanding of institutional and individual discrimination and seek to action change for the better.
Why should you attend?
1. Be part of a series of action-focussed conversations that increase understanding of intersectionality issues within the music education context and provide calls to action
2. Hear provocations from voices that are often omitted from discussions
3. Receive tools, guidance, signposting that you can apply in practice, leading to better music opportunities for children and young people
4. Take part in our online networking moments, and leave feeling more connected and inspired than when you arrived
How will it feel?
1. A positive and flexible online space for a diverse group of people to talk, think, share and reflect together
2. A place where everyone is welcome, particularly those working in music education who feel that their experiences and voices are not reflected in policy and practice
3. A space in which the different ways in which people engage, communicate and learn is truly respected
4. An environment where we acknowledge that uncomfortable discussions are a necessity, and where we support participants through
5. A process, not a moment, where investment will be placed on the event itself, but also on preparing to attend, and identifying and taking forward actions and conversations
How is this event being put together?
Sound Connections has co-created this event with an advisory group who provide challenge, ideas and support around format and content. This group of brilliant individuals will also be involved in facilitating sessions at the event. Read more about the advisory group here. A group of young people are also involved in the planning, co-producing the event, planning and producing film and audio content, and participating in/facilitating discussions. Read more about our young co-producers here. Click here for information about timetable and event format and here for speaker details.
Before you join us
We will be announcing a series of moments in the lead-up to the event.
In the meantime, here are some resources and reading that may be of interest:
Individual/freelance rate: £10 per day / £15 for booking two days
Organisation rate: £20 per day / £30 for booking two days
Video recordings (for non-attendees): £5*

Video recordings will be sent to all attendees after the event so it is not necessary for you to purchase video recordings in addition to another ticket.
*We are keen that financial barriers do not prevent practitioners from attending Sound Connections events. We have a number of bursaries available for individuals, freelancers or students who are currently not in employment. If you would like to take advantage of this for this event, please email admin@sound-connections.org.uk briefly outlining your employment status, and we will send you a discount code. 
If you would prefer to pay via invoice, please contact Emily (admin@sound-connections.org.uk).
If 4+ people from your organisation would like to book a ticket please email a completed version of this form to Emily (admin@sound-connections.org.uk).