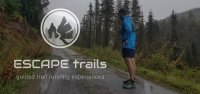 We know that hitting the trails for the first time can be daunting, especially in groups of mixed ability, where you may be the only newbie. So we have created this event especially for anyone that can already run, but would like to try out trail running for the first time, or who maybe lacks the confidence to try it on their own. Everybody in the group will be of similar ability which takes away the stress of being left behind, and the route is an easier level one but still beautiful with plenty of lovely views to take in.
During the event social distancing will be upheld at all times, with extra measures put in place to make sure everyone stays as safe as possible, if you have any concerns or questions about this please email us at escapetrails@outlook.com.
Due to us not being able to safely offer some of the usual benefits to our guided runs, we are running all events at reduced prices, and if you want to book onto this event to replace one that was cancelled earlier in the year because of the coronavirus outbreak please email us at escapetrails@outlook.com.

FAQS
Distance
This run will be 4 miles long - Please note that whilst aiming to be as accurate to this as possible, in some circumstances I may be slightly over or under this mileage, but this will be very slightly.
What pace will we be running at?
We will be running at a casual, social pace. These runs are not a race so please be aware that you may not be the slowest runner and we will be running at the pace of the slowest person.
How long will we be running?
I allow 2 hours for this event, but this will depend on the abilities of the people attending. I want everyone to be able to enjoy it without feeling rushed, and to have time to answer any questions that you may have.
Parking?
There is plenty of on street parking, as well as at the Village Hall.
What will I need?

Waterproof jacket and depending on the weather sun cream
At least 500ml of water and as many snacks as you think you'll need.
Most importantly a willingness to enjoy the trails and have fun.
Refunds?
Although we do not offer refunds in general, if the event is cancelled due to conditions out of our control, where possible we will give at least 24 hours notice, and will offer a transfer to another event or an 100% refund.
Please also read ESCAPE trails T&C's here – https://escapetrails.co.uk/ter...
If you are showing symptoms of coronavirus please do not attend this event, if you are unable to attend we will transfer your place to a future event. If after attending this event you show symptoms of coronavirus, please contact us immediately, so that we can make the other attendees aware.
Cost £8.50, usual price £10