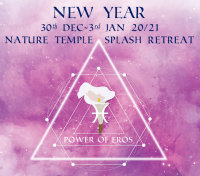 New Years Nature Temple Splash Retreat

Wednesday 30th December 2020, 17:00  -  Sunday 3rd January 2021, 17:00
by Power of Eros
intimately tribal ~: :~ magically revealing ~: :~ sex-positively inviting ~: :~ dancing celebration ~: :~ cacao enhanced ~: :~ ritually transformed ~: :~ warmly sauna & fire ~: :~ free & open hearty space

Celebrating the sacredness of water, celebrating the sacredness of the body we are blessing the existence with our soul emerging!

This incredibly beautiful and intimate weekend in NATURE brings a group of people to be in togetherness, in exploration and healing. We are rewriting our stories as humanity walking on sacred Earth. Yes, life of ecstatic celebration is possible and it is at your reach - at our reach!

In a tribe we can feel much more by showing ourselves, by being seen and by being held in an intimate vortex. We bring our awesome gifts as well as allow our traumas and shadows to be seen and embraced. We are there for each other to breathe, to feel with one another and to go through the tears, the anger and the orgasms hand in hand. For the 4th time we invite you to step into the field of becoming so vulnerable
with each other that the sacredness of being human becomes eminent. Join the ride into the mystery of .... Splash splash splash ~ ~ ~
WHAT ARE YOU IN FOR?
* tribal intimacy
*cleansing and creating space for the new - rape ceremony in 2020
* with our intentions creating a powerful vortex for 2021 to be filled with our soul purpose
* sacrificing and dropping of the pieces which want to be released form our lives and our structures
* crossing the portal into 2021 with full consciousness and with all our parts
* grounding the intentions in our body
* working to integrate the feminine/masculine and dark/light polarities
*lots of dance, celebration, togetherness and daily sharings
*guest musical contributors
*and much much more <3


EXCHANGE?
490€ - First turn (first 5 tickets) - SOLD OUT
525€ -  Second turn (next 5 tickets) 
560€ -Third turn (next 5 tickets)

595€ - Fourth turn (next 5 tickets)

630€ - Fifth turn (next 5 tickets)

665€ - Last turn (last 5 tickets)
<Spaces limited>
Price covers it ALL: 5 days / 4 night shared dorm accommodation;  yummy veggie buffet served throughout the retreat, sauna, workshops, dance and morning body practices, magical cacao and yummy held space with deep love activities. 

YES PLEASE!
1) Get your booking fee ticket (non-refundable) on this page ( and pay rest in cash upon arrival).

2) Drop a short registration form at: https://www.eros-medicine.com/...
WELCOME!!!!
More info after you book one week before the event starts.
Let the love be re-inspired,
Aleksandra, Albert & Ananda (AAA)
∞ : : PRACTICALITIES : : ∞
Take a moment to tune into your intention for this Journey.

NO chemical perfumes / smelling deodorants - we like it all natural!
NO alcohol or other mind altering substances during or on the day we start (Wednesday)