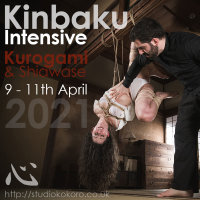 Kurogami and Shiawase will begin this workshop with the study of the gote in Kinbaku LuXuria's style by Riccardo Wildties and go through the basic kata of the style. We will see, understand and apply simple principles in order to create or change our bondage. We will introduce the concept of semenawa and step by step we will deal with the beauty of suffering, which is the core of the style.

We will also introduce some variations to the patterns showing how to tune your bondage in order to make you build your own personal taste.
This workshop is recommended both for people who already have some basics and want to start their journey into semenawa and also for people who already attended our class last year: they will have the chance to refine what already learnt and to study new variations of the basic kata, with particular emphasis on how to mix the skills already acquired to build something different.
This workshop will cover:
Gote (2-3 ropes) as adapted by Wildties from Naka-ryu to improve safety without losing the spirit
Semenawa floor-work ties
Basic suspensions of the style
Variations of the basic kata
Traditional Japanese style aesthetics
Prerequisites for this Workshop
Riggers must be able to tie the following:
A stable 2-ropes gote in any style
Efficiently tie any kind of double and single column tie.
Confident with basic suspensions
Models should have the following:
Confidence with TK / Gote
Confidence with basic suspensions
What to bring
12 ropes (natural fibre) will be required. Suggested size: 5-6mm diameter and 7-7.5m length.
Models should bring anything they need for their own comfort, blankets, slippers, energy etc.
You should also bring any food / snacks you will need for the weekend. We have supermarkets nearby but also a fridge for you to store your lunch. Please know we do not have a microwave. 
About Kurogami and Shiawase
Andrea Kurogami, 32 years old. In 2014, he met Shiawase and they became partners in life. Together, they started to study Japanese bondage at the end of 2016, with Riccardo and Red Sabbath. From that moment on, their way of living bondage changed. In 2017 Kurogami and Shiawase gave life to Kinkyphilia, a project for sharing their way of living alternative sexuality and especially the way in which they live kinbaku. In February 2018, Kurogami became a Kinbaku LuXuria's certified educator, definitely matching Riccardo's educational values.
In December 2019, Kurogami performed at the 25th Nawa Naka Kai in Tokyo, together with Riccardo and Naka-san.
Kinbaku
Kinbaku LuXuria is a traditional style, which directly descends from Naka-ryu. Riccardo introduced a technical re-engineering in order to make the style fit with Western body types that didn't undermine the original spirit of the style. Semenawa, the tormenting rope, is the word that better resume the mood of this style.
Riccardo is Naka-sa's Ichi-ban deshii and according to the will of his sensei he is the one who is designated to convey the style. In addition to several workshops and shows that Riccardo held in Europe and North America with his partner Red Sabbath, he performed several times in very important Japanese events in Tokyo, such as Maniac Festival and Nawa Naka Kai.
Studio Kokoro
We welcome all body types, genders, POC, all abilities and identities at Studio Kokoro, if there is something we can do to make you feel welcome please let us know.
Please read our Code of Conduct and paying particular attention to our Covid-19 guidelines before buying your ticket to ensure comfort for all participants, educators and staff.
The studio is very easy to get to via public transport and there is a TravelLodge close by, which we recommend due to their cancellation policy being very flexible and especially recommend the refundable bookings with the current covid situation in mind. If you are driving we also have lots of parking at the venue through the gates, more information on parking and amenities can be found here. The studio does not have a microwave but does have a fridge for you to store food, and a selection of hot and cold drinks.

COVID-19 Notice

We are hoping things will be different in September 2021 but as we are planning this event a year in advance during a global pandemic we are not sure what the situation will be at the time of this workshop. Right now these are our COVID secure measures, we will keep you updated of any changes closer to the time. If we end up in a position where we have to reduce numbers of participants attending the workshop due to COVID-19, we will prioritise those in chronological order of when they booked onto the workshop. We will do our best to offer alternative dates if this situation happens. Thank you for your patience and understanding with this.