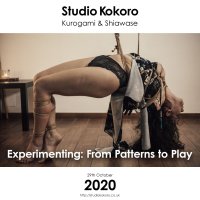 Experimenting: From Patterns to Play
Traditional Japanese rope bondage is a handmade discipline where the most of the hard skills are taught including them into some patterns that students have to reproduce. Learning new skills and practice them are two mandatory steps in one person education, but putting them together sometimes seems hard and intricate.  
In this class, Kurogami & Shiawase will discuss about different way to experiment in bondage, both on the aesthetics and on the feeling sides. Particularly, they will talk about:  
Why it's important to experiment and to follow personal tastes  
How to "smooth" the concept of harness  
How to mix simple elements to obtain different flavours  
The importance of failure in experimenting.  
This will be a 2h class, with a live demo. Conversation, questions and comments will be very welcome during the class and highly encouraged.
About Kurogami and Shiawase

Andrea @Kurogami_, 32 years old. In 2014, he met @Shiawase and they became partners in life. Together, they started to study Japanese bondage at the end of 2016, with Riccardo and Red Sabbath. From that moment on, their way of living bondage changed. In 2017 Kurogami and Shiawase gave life to Kinkyphilia, a project for sharing their way of living alternative sexuality and especially the way in which they live kinbaku. In February 2018, Kurogami became a Kinbaku LuXuria's certified educator, definitely matching Riccardo's educational values.
In December 2019, Kurogami performed at the 25th Nawa Naka Kai in Tokyo, together with Riccardo and Naka-san.
Studio Kokoro Live Terms - Please read before purchasing your ticket
Please read and accept this information about joining Kokoro Live. By purchasing a ticket you agree to the below information:
All events are scheduled for BST / GMT+1 timezone (London, UK Time)

Our classes take place at different times please check the time carefully for each event, even with the same presenter.

If you purchased your ticket via an event on FetLife, please note that FetLife changes the event listing to your own local time. Please use the times given in this ticket.


Tickets are 1 per house hold (assuming you are using the 1 zoom) if you need 2 zoom windows open, then you will need to purchase 2 tickets.

Budget tickets are for those with low income, freelancers, unemployed, UC holders, and anyone struggling financially.

These are live classes and not recorded, they cannot be viewed after the event itself, please consider this when purchasing.

Tickets are non-refundable / non-transferable to another class - you get the password and room information in your ticket so we are unable to refund / transfer if you cannot attend. Please consider this before purchasing your ticket.

You do not need to turn your video on and all microphones will be muted during the class.

You will need to download zoom (free) to access this class.

If you struggle with timezones, you can use google or https://www.worldtimebuddy.com/ to help with this.
If you have any questions about attending a Studio Kokoro Live Class please see our Frequently Asked Questions Page before contacting us. It is very likely your question may be answered there.
We look forward to welcoming you to this Kokoro Live Class.