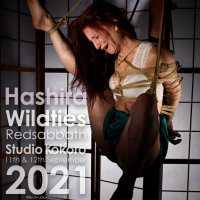 About the Workshop

This workshop is dedicated exclusively to Hashira Shibari. Hashira Shibari has been one of Wildties and Redsabbath's favourite ways of tying since they started following the work of Sensei Naka Akira, and it has been one of the first things they wanted to learn from him. Kinbaku LuXuria can say without any doubt that they are among the people in the west that have spent more time studying, practicing and evolving Hashira Shibari.
This workshop will cover traditional Naka Ryu ties, as usual as revised by Wildties. Also some older fashion ties popular in Nureki Sensei's time, hashira floor ties and also a few acrobatic ties.

We will work in depth on the technique and the aesthetics but also on the cultural aspects of this traditional form of shibari and of course on the psychological and physical effects on the model.
Hashira shibari has seen it's popularity grow exponentially and it's currently their most requested workshop.
Prerequisites for this Hashira Workshop
Riggers need to have a solid TK (taught by Wildties or one of his certified instructors) and both riggers and bottoms must have experience in Semenawa suspension. If in doubt please check you meet there requirements by contacting us.
Models must be familiar with symptoms of nerve impingement and must be comfortable with gote, semenawa suspension and challenging ties.
What to bring
Participants need to bring at least 12 natural fibre ropes , 15 ropes being ideal, 7-8 meters in length. Models should bring anything they need for their own comfort, blankets, energy etc. You should also bring any food / snacks you will need for the weekend. We have supermarkets nearby but also a fridge for you to store your lunch. Please know we do not have a microwave
COVID-19 Notice

We are hoping things will be different in September 2021 but as we are planning this event a year in advance during a global pandemic we are not sure what the situation will be at the time of this workshop. Right now these are our COVID secure measures, we will keep you updated of any changes closer to the time. If we end up in a position where we have to reduce numbers of participants attending the workshop due to COVID-19, we will prioritise those in chronological order of when they booked onto the workshop. We will do our best to offer alternative dates if this situation happens. Thank you for your patience and understanding with this.