---
---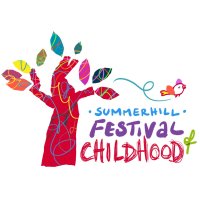 YOU are invited to the tranquil British countryside of Suffolk to celebrate The Summerhill Festival of Childhood with us!
We are Celebrating 100 years of Summerhill School and all the inspirations A.S.Neill has given the world. We are proclaiming childhood as a critical period of time for all of us and for humanity.

The Summerhill Festival of Childhood will be a community and family-friendly event, that will bring together many exciting projects, collaborations, workshops, talks, presentations and performances based on art, music, theatre, dance, craft, educational and child rearing approaches, psychology, sustainability, community and children's rights for thousands of participants.
Festival Date: 5th August 2022 - 10th August 2022
Location: Peakhill Farm, Theberton, Suffolk, England
Who Can Come: Everyone, Families and children welcome
Camping: When you purchase a 6 Day festival ticket, please bring your own tent and camping equipment. If you are unable to bring a tent and still would like to camp in our campsite, add on camping accommodation options are available here, at the end of the ticket selection. *Add on accommodation is for a tent hire and campervan tickets only, a ticket to the festival is not included.
Day Tickets also allow you to camp for one night, the night proceeding the day of the ticket of purchase. The same camping options as above apply
Check out our Summerhill Festival of Childhood website for more details, and our awesome festival merchandise is available here!