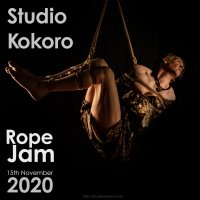 Studio Kokoro Rope Jam
Our Rope Jam Session is a space to tie, watch others tie, discuss bondage with peers and learn through observation. All riggers, rope models and bottoms, and self tiers are welcome regardless of skill level or style. This is an open tying event, this means there is no instruction, so it is more suited to those who already know how to tie, and possibly less ideal if you are completely new to rope. However, there is no obligation to tie, you are welcome to simply observe and ask questions.
Due to COVID-19 we have had to make significant changes to our Rope Jam events, which would usually have a very social element, so they will feel somewhat different currently. Please read below before booking your ticket. Pre-booking is essential to attend our Rope Jams currently. 
We expect all guests in the space to respect the control measures we have put in place, to protect the safety of our guests and studio team. If you do not follow the advice given you will be given a warning and if non compliance continues you will be asked to leave the event.

Studio Kokoro COVID-19 Guidelines
Total amount of people in the studio is limited to a maximum of 28 for each event, which includes staff, 10 tying pairs, and presenters for workshop events.  However, our Rope Jam Sessions will be limited to 8 tying pairs and 2 members of staff. 
Who can come to Studio Kokoro? You can visit Studio Kokoro with a prearranged partner that you are living with, or partner/s you have formed a bubble with. There will be no pick up play at the studio and you will need to tie with the same partner for the full event. You are also welcome to attend solo to self-tie. If you are in a level 3 (very high) alert area of the UK, we would ask you not to attend the studio at this time. If you are in a level 1 or 2 alert area you are welcome to attend the studio.
Arriving and Leaving: We will be checking everyone's temperature on arrival with a contactless system, you will also be asked some screening questions as you arrive. It is mandatory for every individual entering the space to scan the Track and Trace QR code, using your NHS COVID-19 app which can be downloaded here for Apple devices and here for android devices. We ask guests to only enter the reception area when there are no people occupying that space. A member of the Studio Kokoro Team will be present to guide you. We ask people not to que outside of the studio where possible.
Social Distancing: Masks are compulsory in all communal areas of the studio. You are welcome to remove your masks when you are seated in your tying space. We have face masks available if you forget yours. We ask you to follow the one-way system in place highlighted by clear markings on the floor, including queueing markers on the floor for the toilets. Each tying space is clearly marked, they are 2 meters wide with a clear walkway between each space. Each tying space will be provided with a bamboo. You will need to hang your own bamboo. If you want it hung for you please contact the Studio to request this before the event starts.
Facilities: The chill out space and kitchen facilities are closed to guests. You will need to bring your own beverages and any food you need with you. There is no communal rope available, you will need to use your own rope to hang any suspension equipment. Water is available for sale during events, you will need to keep and dispose of the bottle after use. We will only be taking contactless card or Paypal payments for anything you purchase at the studio, no cash payments at this time. Weather permitting we will keep the studio entrance door open to increase ventilation in the studio, bring warm clothing if this could be a concern for you.
Respect others: Please be aware that some people may have a lot of anxiety about being around other people, please respect that and do not go for uninvited contact e.g., hugs. There is no physical contact in the studio with anyone outside of your tying partner. 
Cleaning: We have contactless hand sanitiser dispensers at the entrance / exit to the studio and in the kitchen / bathroom area which we ask you to use. Antiseptic cleaning wipes are provided at every tying station, as well as the toilet area, kitchen and entrance. Soap and water are available in the kitchen area and toilets with paper towels for drying hands. We ask everyone to wipe their mats when they have finished using their tying area at the end of each event.
Higher Risk: If you identify as a person at higher risk or poorer outcomes, for example, older male, BAME, someone with high BMI or have a pre existing health condition, please contact us if you have any additional needs to what has been outlined here. 
For the full list of measures we have put in place please refer to our website HERE. 

Please do not come to Studio Kokoro if you or someone you have been in contact with has symptoms, if you develop symptoms after coming to the studio please notify us as soon as possible so we can notify anyone that was at the studio. If you are unsure about your symptoms, see NHS Guidance to check your symptoms. If you have symptoms you should quarantine immediately, more information from the NHS here.