---
---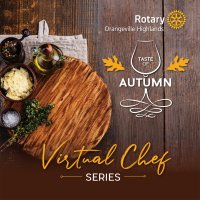 You are invited to join in a five-episode series celebrating the harvest season with chefs from some of your favourite local establishments - all from the comfort of your own home!    The complete series of five episodes is $150.00*.   Individual episodes can be purchased for $45.00 each. 

Air Dates:
October 21:  Fire in the Kitchen Spice Co.- Chef & Firefighter Christian Horner
October 28:  Lavender Blue Catering - Chefs Terry Doel and Vanessa Kreuzer
November 4:  Bluebird Cafe and Grill - Chef Doug Parker
November 11:  Ray's 3rd Generation Bistro - Chef Jason Perkins
November 18:  Forage - Chef Matthew Jamieson
You will be sent a link to our private YouTube channel so that you can enjoy the episodes any time on or after the initial air date.
Net proceeds from this event will go to Headwaters Health Care Foundation and ShelterBox Canada.

* Includes $100 tax receipt from the Rotary Club of Orangeville Highlands Foundation