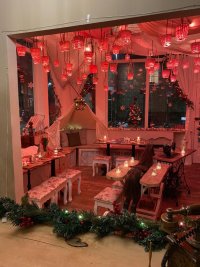 This Christmas we invite you to journey through the Fairy Door into a house where...
EVERYTHING IS MAGIC!​
The excitement starts as a personalised letter arrives in the post to invite your lucky little fairy or elf to meet us!
They'll design their very own Christmas wand for the fairies to make ahead of your visit and will hide under the fairy Christmas tree as a special gift!
Then it's time to help the fairies prepare for Christmas as you sing, dance and craft make your way around the Fairy House!
The Fairy House comes alive with the glow of 100's of little fairies twinkling above your heads, enchanting Christmas music and the beautiful Christmas Fairies who share their heart warming story.
Stay for Fairy tea & cake...
After your hour long Christmas adventure, we'll reserve a table for you for an extra 30 minutes If you'd like to stay for some festive treats!
Delicious hot chocolates, Fairy-Chinos, Cupcakes, Cookies and gingerbread are delivered by the Fairy Baker to cosy up with.
**Drinks and cakes are priced separately**
Our Fairy Shop has some delightful gifts and stocking fillers, many unique to The Fairy House! It will be open for shopping after your visit. If you need to do any 'secret shopping' for your little fairy, we will send you an order list ahead of your visit and can have your gifts wrapped and ready for you to collect on the day!

HOW TO BOOK TICKETS:

- Select the ticket option for how many children you wish to book for; 1, 2, 3 or 4. You will need to book your whole group at the same time as the ticket options will disappear after one purchase is made.

- All children age 1+ will need a purchased ticket.

- A maximum of 2 adults can attend per child. Group sizes must not exceed 6 people of any age in total (baby to adult). There is no waiting area for additional people at The Fairy House.

- 1 weeks booking notice is required for the letter invitation sent in the post. Bookings made at less than a week will be sent a pdf version of the letter for you to print at home.

- There must be a supervising adult with your child/ren at all times.

- You may only book one group of up to 6 people per time slot.


**Please note that The Fairy House rooms are divided by stairs. Lighting of a flashing nature is featured in this experience**

ELF & SAFETY GUIDELINES FOR YOUR CHRISTMAS AT THE FAIRY HOUSE VISIT

Please read carefully before booking

Cancellation Policy:

Please ensure your have selected the correct date and time as tickets are only valid for the date and time booked.

If you become unwell due to Covid-19 and/or are required to isolate, your booking will be credited as Fairy Money to spend on a future Fairy House visit or In the Fairy Shop or Tea Room.

If the event is cancelled by The Fairy House we will refund your tickets.

Group sizes must not exceed 6 people in total. This is a person of any age from babies to adults. This is the law. Only groups of 6 persons or less will be allowed to enter The Fairy House. There is no waiting area for additional people.
Face coverings are required for this event at indoor venues which includes at The Fairy House. Adults and children age 11+ are required to wear one inside The Fairy House except for when seated to eat/drink. Please be respectful of the other group attending and of the fairies by wearing one. (Unless you are exempt).
All guests will be required to sanitise your hands upon entering.

A QR code is available for scanning during your visit. Online booking details will also be held for 21 days after your visit for track and trace.
The Fairies will interact and perform from a designated safe distance from the groups. When closer contact is required for serving drinks and shop products, we have our own special fairy masks!
Please respect social distancing between the other group in your session. Group 1 and Group 2 will be split for sections of the experience between the rooms and will be together for segments when seated at their designated, socially distanced table for the storytelling.


FOR THE SAFETY OF EVERYONE DO NOT ATTEND THE EVENT IF YOU ARE EXPERIENCING ANY SYMPTOMS OF COVID-19.