---
---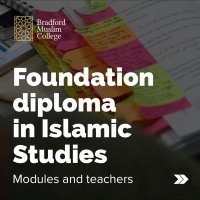 Foundation diploma in Islamic Studies 2021
The foundation diploma in Islamic Studies has been carefully designed with working professionals, students and busy parents in mind. This 1 year low commitment weekend programme aims to give people the opportunity to study essential Islamic sciences and gain a solid general knowledge of their faith and the necessary legal rulings to be able to live Islam.
New for 2021: On-campus (Covid permitting) and on-line options available!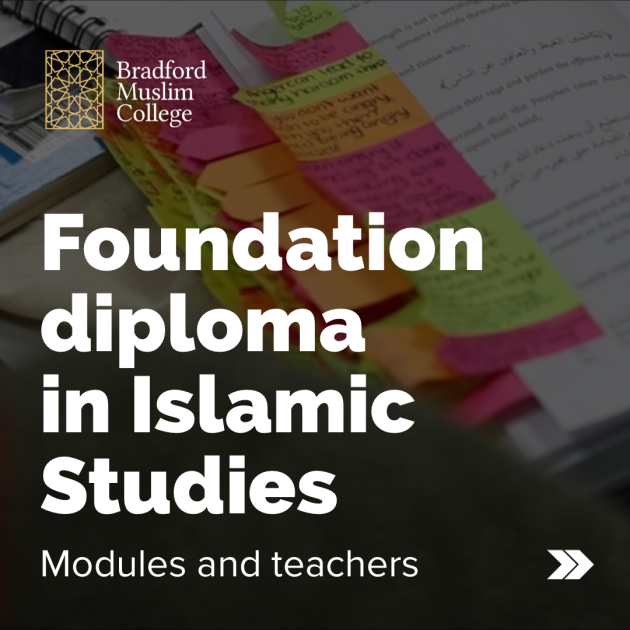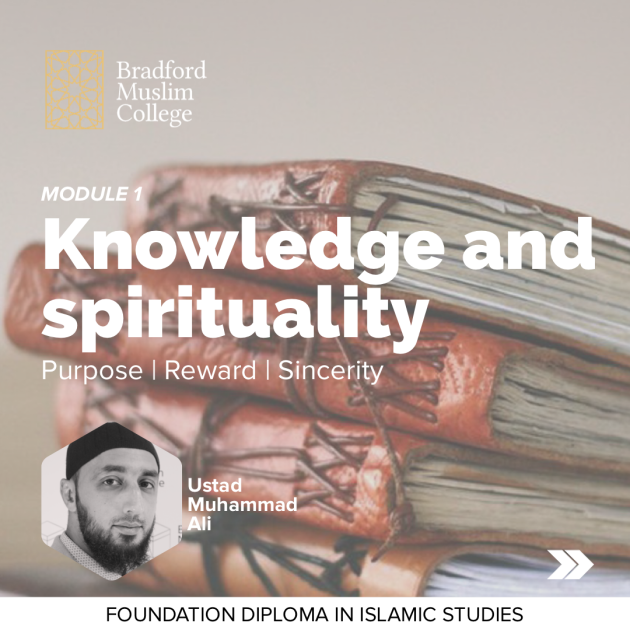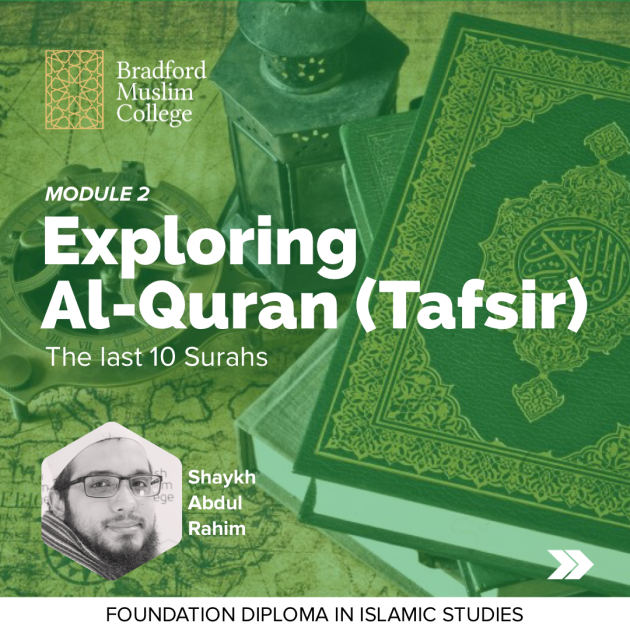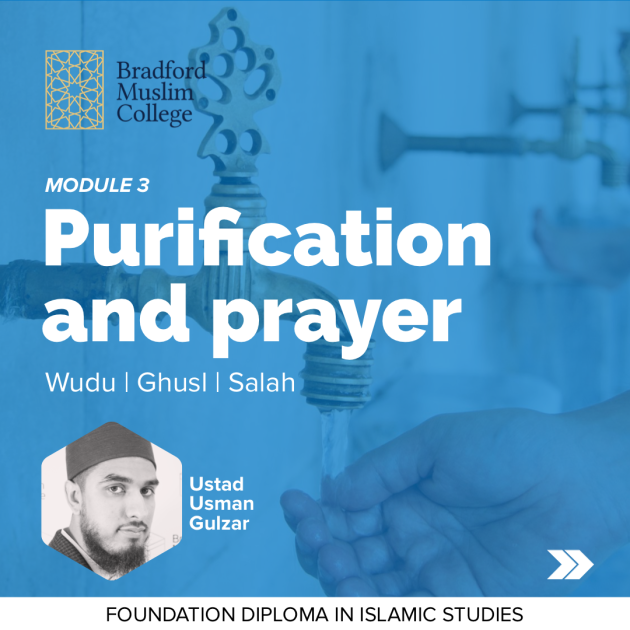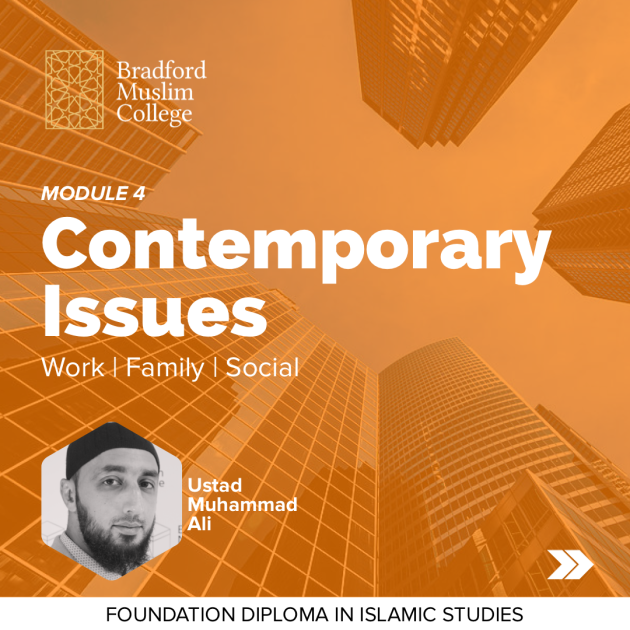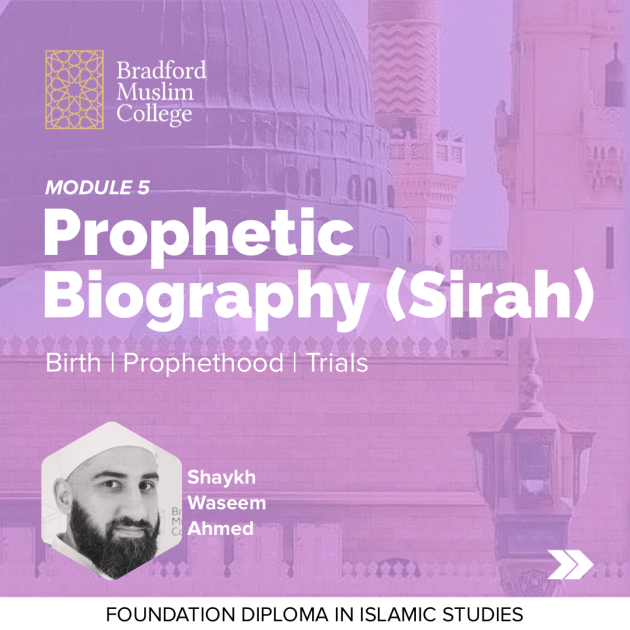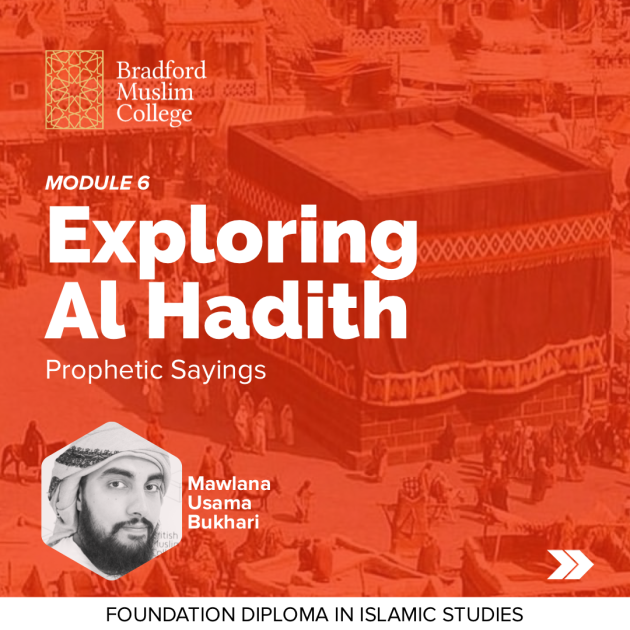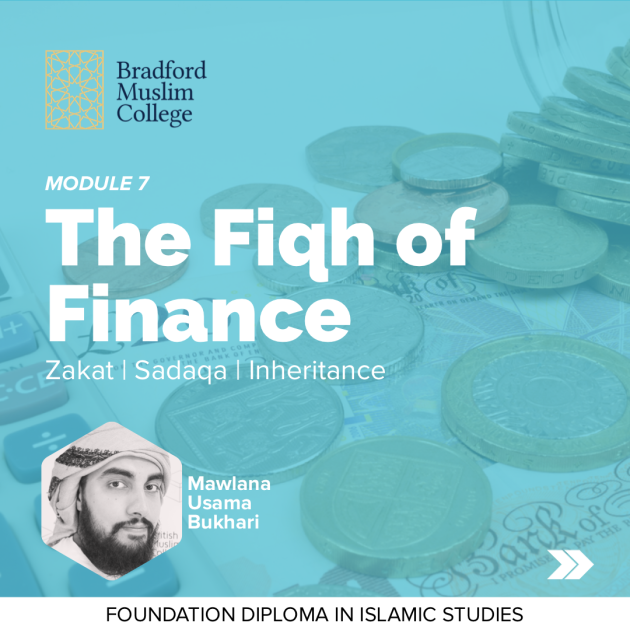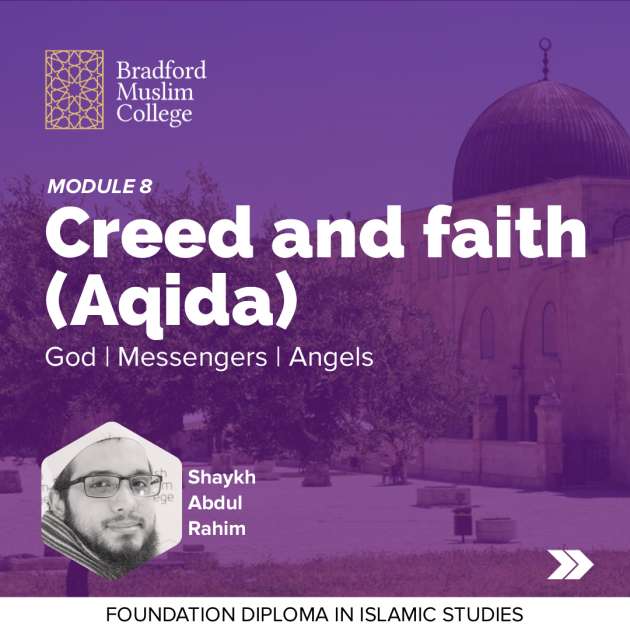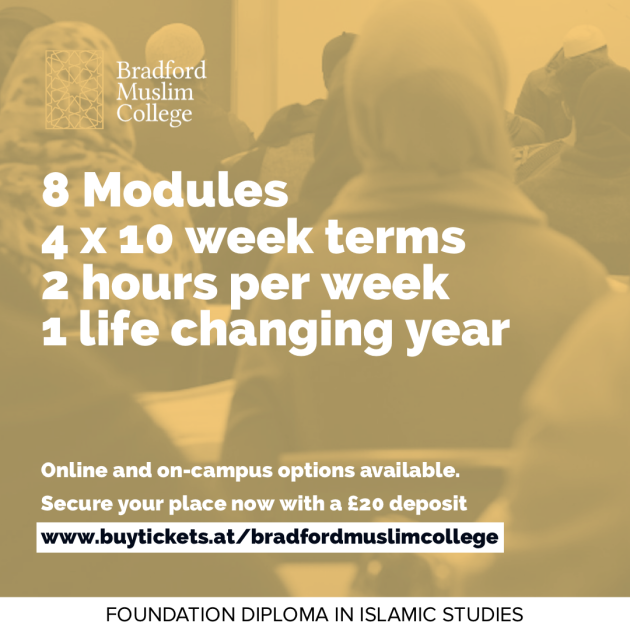 Key information
Course title
Foundation diploma in Islamic Studies
Start date
January 2021
Duration
1 year (4 x 10 week terms)

Days

Saturday

Timings

6.00pm-8.00pm

Teachers

Shaykh Abdul Rahim Reasat
Ustadh Usman Gulzar
Ustadh Muhammad Ali
Mawlana Usama Bukhari
Shaykh Waseem Ahmed
Shaykh Abdul Wajid Hussain

Modules


Term 1

Unit 1: Knowledge & Spirituality (Ustad Muhammad Ali)

Unit 2: Quranic Exegesis (Tafsir) (Shaykh Abdul Rahim Reasat)

Term 2

Unit 3: The Law of Purification & prayer (Wudu, Ghusl, Salah) (Ustad Usman Gulzar)

Unit 4: Contemporary Issues and current affairs (Ustad Muhammad Ali)

Term 3

Unit 5: Prophetic History (Sirah) (Shaykh Waseem Ahmed)

Unit 6: Introduction to hadith (Mawlana Usama Bukhari)

Term 4

Unit 7: The Law of finance (Zakat, Sadaqah, inheritance) (Ustad Usman Gulzar)

Unit 8: Creed and Faith (Aqidah) (Shaykh Abdul Rahim Reasat)

Campus

Al-Mustafa Centre, Bradford, BD8 9LN

Accessibility

Open to Males and Females

Primary teaching language

English

Course fees


On Campus (Covid permitting):

4 x termly payments: £100 per term

1 x annual payment: £300 (one term free)

Online only:

4 x termly payments: £75 per term

1 x annual payment: £225 (one term free)

Due to the ongoing government restrictions around the coronavirus containment, we may need to suspend the on campus sessions and move all classes online only, in this instance any students who have paid for the on campus course will be charged the same price as the online only option.
Term dates
Term 1 - Saturday 30 January - Saturday 3 April (10 weeks)
5 weeks break for Ramadan and Eid Ul Fitr
Term 2 - Saturday 22 May - Saturday 24 July (10 weeks)
1-week break
Term 3 - Saturday 7 August - Saturday 9 October (10 weeks)
1-week break
Term 4 - Saturday 23 October - Saturday 25 December (10 weeks)
Detailed syllabus
View the full course syllabus here: BMC_FD_Full_syllabus

Further information
For more information email info@bradfordmuslimcollege.org.uk
Refund policy:

Refunds can be made within 14 days of purchase. However, no refunds can be made after 1st December 2020.