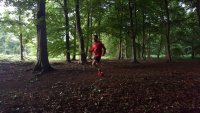 Join us for a fully guided 5k trail run in the beautiful surroundings of Thetford Forest. 
The run begins and ends at High Lodge Visitor Centre, which is a perfect location for trail running, with miles of trails and tons of outdoor space to explore. Being a 5k this is a perfect event for beginners looking to take their running off road, and with the run being led by experienced run leaders, there will be plenty of opportunity to ask questions about trail running. 
FAQS
Distance
This run will be 5k.
What pace will we be running at?
We will be running at a casual, social pace. These runs are not a race so please be aware that you may not be the slowest runner and we will be running at the pace of the slowest person. If you are able to run at 12/13 min miles you will be fine.
How long will we be running?
We allow 2 hours for this event, but this will depend on the abilities of the people attending. We want everyone to be able to enjoy it without feeling rushed, and to have time to answer any questions that you may have.
Parking?
There is plenty of parking at High Lodge. For attendees parking will be charged at the flat rate of £3 for the day. 
What will I need?
We will be running on a variety of terrain from hard-packed trails, to single track trails through woods.
Waterproof jacket and depending on the weather sun cream
At least 500ml of water and as many snacks as you think you'll need.
Most importantly a willingness to enjoy the trails and have fun.
Refunds?
Although we do not offer refunds in general, if the event is cancelled due to conditions out of our control, where possible we will give at least 24 hours notice, and will offer a transfer to another event or an 100% refund.
If we have to cancel the event due to coronavirus, we will offer you the option to transfer your place to a future event, or receive a full refund.
Please also read ESCAPE trails T&C's
If you are showing symptoms of coronavirus please do not attend this event, if you are unable to attend we will transfer your place to a future event. If after attending this event you show symptoms of coronavirus, please contact us immediately, so that we can make the other attendees aware.