---
Join our wait list for notification of future dates (not this date)
Done!
---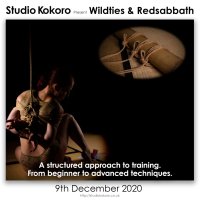 A Structured Approach to Training: From Beginner to Advanced Techniques
What is training and is there a better way of training for rope? How can we assess our skills and understand what we need to improve? Are there ways to speed up the growth of our rope skills?
After many online classes dedicated to rope philosophy and communication, we thought it was a great time to concentrate on pure technique. This class aims to give you the instruments to recognize your technical weak spots and work on them through selected exercises. From beginners to advanced level we will demonstrate the exercises we have been using successfully with many students in our private classes, giving you a reliable method to make your rope skills skyrocket.
You will not learn ties, but exercises and ways to create exercises that will greatly improve your rope tying skills.
Studio Kokoro Live Terms - Please read before purchasing your ticket
Please read and accept this information about joining Kokoro Live. By purchasing a ticket you agree to the below information:
All events are scheduled for GMT timezone (London, UK Time)
Our classes take place at different times please check the time carefully for each event, even with the same presenter.
If you purchased your ticket via an event on FetLife, please note that FetLife changes the event listing to your own local time. Please use the times given in this ticket. 
Tickets are 1 per house hold (assuming you are using the 1 zoom) if you need 2 zoom windows open, then you will need to purchase 2 tickets.

Budget tickets are for those with low income, freelancers, unemployed, UC holders, and anyone struggling financially.
These are live classes and not recorded, they cannot be viewed after the event itself, please consider this when purchasing.
Tickets are non-refundable / non-transferable to another class - you get the password and room information in your ticket so we are unable to refund / transfer if you cannot attend. Please consider this before purchasing your ticket.
You do not need to turn your video on and all microphones will be muted during the class.
You will need to download zoom (free) to access this class.
We advise you check the time in your timezone, you can use https://www.worldtimebuddy.com/ to help with this.
If you have any questions about attending a Studio Kokoro Live Class please see our Frequently Asked Questions Page before contacting us. It is very likely your question may be answered there.
We look forward to welcoming you to this Kokoro Live Class.