---
---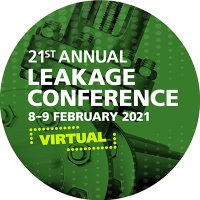 Conference, Expo and Networking for the Leakage community   

The 21st Annual Leakage Conference now takes place over TWO days – giving delegates more time to access the rich programme of keynote presentations, case studies, discussions and networking opportunities – as well as our interactive expo area – on a dedicated, digital platform.  
The conference and expo will support the whole Leakage Community to network, connect and collaborate during these difficult times – and share solutions for the leakage reduction challenges of AMP7 and beyond. It will provide a dynamic meeting place, using innovative approaches to bring the leakage community together.  
Developed by the industry for the industry, join us, and:
share

innovation insights

exchange

ideas

 

access

the latest findings in leakage management

debate and network

with industry colleagues

benefit from the Leakage Conference Community Hub with additional webinars and access to the exclusive LinkedInGroup

.
Be part of the conversation 
Join leakage colleagues from across the UK to explore the key issues impacting leakage professionals in the drive to meet the leakage reduction targets for AMP7 and beyond, with:​​
Pauline Walsh, CEO, Affinity Water opens the conference with an overview of the industry's progress to date 
Driving Innovation Forum provides insights and updates on key industry initiatives on key strategic areas and industry initiatives affecting leakage management in AMP7 and beyond, from the Leakage PIC and Ofwat's Innovation Fund, to the industry's innovation strategy and leakage innovation heatmap
Operational & Technology Developments Forum provides case studies on a range of issues from the role of data science in leakage management in leakage management today, plus developments in digital twinning  and machine learning, to the latest initiatives in identifying leaks on plasti pipe assets and insights from the impacts of COVID on demand management and leakage
The Find & Fix Forum includes the Soapbox Challenge which focuses this year on in-pipe/in-line locating and fixing of leaks, plus a session focused on the learnings from NWL's Innovation Festival Leakage Sprint 

Q&A discussions and break-out groups

all important networking opportunities in small groups and 121 - connecting you with your fellow leakage specialists and supply chain colleagues
interactive exhibition/expo area - meet up with water companies, key supply chain stakeholders and industry organisations

PLUS your digital pass provides exclusive access to the Leakage Conference LinkedIn group and other future networking and free discussion events /webinars throughout the year.
Supporting the leakage community

We want to support the leakage community both in water companies and the supply chain beyond the conference itself, so your digital pass provides exclusive access to a new year-round hub for the Leakage Community, featuring: 
webinars on the hottest topics building on the success of the launch webinar Driving Innovation on 8th October and hosted by Karma Ockendon, Editor, The Water Report - you can access the recording here. It will enable us to cover key topics as and when they are needed and provide another opportunity for leakage specialists to connect and network
an exclusive LinkedIn (LIn) Network for attendees, enabling delegates to connect beyond the life of the conference itself. It will also provide a forum for gathering and disseminating information on key issues as we move through AMP7 as well as a mechanism for a cross-company network bringing water company and supply chain leakage specialists together.
Exhibition and sponsorship opportunities
We have the last few remaining expo booths. Find out more here about how your organisation can participate with a dedicated expo booth. Email/talk to Judith Powling on 07771 931139 about profile raising sponsorship opportunities with this key industry group. 
Ensure your organisation is represented and contributes to this timely forum

Conference, expo, networking and Leakage Conference Hub digital 

£550 plus VAT




BOOK YOUR PASSES NOW



Companies who attended the 20th Annual Leakage conference included:



Affinity Water | Analytical Technology Inc | Anglian Water | Ant Hire Solutions LLP | Apem | Aqualogic | AquamatiX | Artesia | Atkins Global | AVK UK | Barter 4 Things | Bermad | Black & Veatch | Bristol Water | Cla-Val | Crowder Consulting | Dwr Cymru Welsh Water | Emagin | Energy & Utility Skills | Future Water Association | Gutermann | Haskoning DHV UK | HWM | Hydrosave | Inflowmatix | Invenio Systems | Irish Water | Jamie Lynch Consulting | J Murphy & Sons | Jersey Water | Kobus Services | Manx Utilities | Mueller Water Products | Nickel Institute | Northumbrian Water | Oxford Flow | Optimatics | P N Daly | Portsmouth Water | Primayer | Royal HaskoningDHV | RPS Group | Scottish Water | Servelec Technologies | SES Water | Severn Trent | Skewb | SME Water | South Staffs Water | South East Water | South West Water | Southern Water | Stantec - MWH Treatment | Teccura | Technolog | Thames Water | The Water Report | UKWIR | United Utilities | University of Sheffield | Veriflo | Vodafone | Water UK | Wessex Water | Wheatley Associates | Water Leak Location Services (WLLS) | WRc | Yorkshire Water 
Our Sponsors