---
---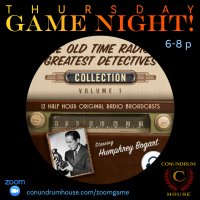 PLAY IN PLACE
With Friends & Family—From Here, There & Anywhere!
Join Conundrum House EVERY Thursday evening on Zoom for mini mysteries, spy trivia, mystery storytelling, Mystery Grams™ and more in our Zoom Game Room. Invite family and friends from across the country, even the world, to join you in our games and other kinds of mysterious and puzzling play.
Each week we concentrate on a single game or activity for 30-60 minutes--this week it's Old Time Radio Whodunits + Post Listening QUIZ!
We are listening to the Maltese Falcon with Humphrey Bogart, Mary Astor and Sidney Greenstreet & Peter Lorre! The radio play runs 30 minutes followed by our Maltese Falcon Quiz.
The rest of our time together is spent playing a variety of other games or engaging in other mysterious or/and puzzling activities.
When: Thursdays (6-8 pm PDT)
Where/Register: Conundrum House Zoom Game Room (CLICK RED BUTTON ABOVE)
FREE
(And donations happily accepted!)

Brought to you by: Conundrum House
https://conundrum.house
librarian@conundrum.house