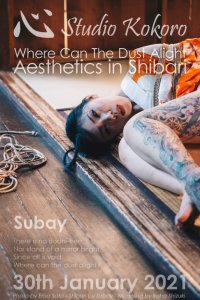 ...
Please note the start time before booking your ticket!
...

Where Can The Dust Alight: Aesthetics in Shibari
「菩提本無樹,明鏡亦非臺。本來無一物,何處有塵埃。」

"There is no Bodhi-tree, nor stand of a mirror bright. Since all is void, where can the dust alight?"
(Translation by Wong Mou-Lam)

Aesthetics, as a profound intrinsic value of pleasure, is often elaborated into forms and characteristics. In this workshop, Subay will explore important concepts of aesthetics such as wabisabi (侘寂) , mono no aware (物の哀れ), yūgen (幽玄), drawing inspirations from her background in Buddhism and Chinese tea ceremony. She will discuss how aesthetics is beyond material forms - outer beauty manifests the inner aesthetics. To her, aesthetics is an experience creating emotional, cultural and aesthetic values for the rope top, rope bottom and viewers. It is not only in what we tie, but how we tie.


Subay is a Shibari artist and founder of Kokoro Studio based in Hong Kong.
Subay was first introduced to Shibari eight years ago when she was fascinated by its aesthetics, eroticism and emotions. She spent the first few years exploring and learning the different styles from several well-respected nawashi in Japan. In 2014, she met and was deeply inspired by Yukimura Haruki sensei. Afterwards, she dedicated herself to the study of traditional Japanese style. In 2015, Subay met Naka Akira sensei and chose to focus her study on sensei's style of semenawa. She continues to explore her own style of semenawa which is both feminine and inclusive.
In March 2018, Subay had the honour of performing at Onna Matsuri (おんあ祭り) in Tokyo. In November 2018, she had the privilege to tie at Naka sensei's satsuei-kai (縄奈加會緊縛撮影会) and in November 2019, she assisted Naka sensei in his workshops in San Francisco.
Subay teaches and performs internationally, including Asia, Europe and US. Her teaching focuses on the "why", the feelings, the emotions, and provides insights on the perspective of both the rope top and the rope bottom.
Studio Kokoro Live Terms - Please read before purchasing your ticket
Please read and accept this information about joining Kokoro Live. By purchasing a ticket you agree to the below information:
All events are scheduled for GMT timezone (London, UK Time)
Our classes take place at different times please check the time carefully for each event, even with the same presenter.
If you purchased your ticket via an event on FetLife, please note that FetLife changes the event listing to your own local time. Please use the times given in this ticket.
Tickets are 1 per house hold (assuming you are using the 1 zoom) if you need 2 zoom windows open, then you will need to purchase 2 tickets.
Budget tickets are for those with low income, freelancers, unemployed, UC holders, and anyone struggling financially.
These are live classes and not recorded, they cannot be viewed after the event itself, please consider this when purchasing.
Tickets are non-refundable / non-transferable to another class - you get the password and room information in your ticket so we are unable to refund / transfer if you cannot attend. Please consider this before purchasing your ticket.
You do not need to turn your video on and all microphones will be muted during the class.
You will need to download zoom (free) to access this class.
If you struggle with timezones, you can use google or https://www.worldtimebuddy.com/ to help with this.
If you have any questions about attending a Studio Kokoro Live Class please see our Frequently Asked Questions Page before contacting us. It is very likely your question may be answered there.
We look forward to welcoming you to this Kokoro Live Class.