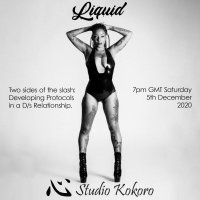 Two sides of the slash: Developing Protocols in a D/s Relationship
Join us for this introductory workshop where Liquid will take you through the rules, rituals and protocols of a D/s relationship to support you developing or re-discovering your own protocols. 
Bring a pen and paper if you want to take notes, a curious and open mind, and any questions you may have. 
About Liquid
Liquid (She/They/Them/That Bitch) has been a fixture in the BDSM/Leather community for 24 years and a rope bottom & rope model for more than 13 years, and in Sex Work on and off for 20 years. She has competed in and won Ms. Henrietta Hudson Fetish 2008/2009. She then went on to be the only Womxn & person of color to compete in the first Mr/Ms. New York City Leather contest.
Liquid has volunteered at events such as Leather Pride Night, and Folsom Street East. She has presented and sat on Panels for Dark Lair, LSM, TES' DW/sm group, and many more. Liquid taught workshops on Consent & Negotiations, Risk Profiles, Self Care in Kink, and many more. Liquid takes pride in her activism/advocacy work and has fundraised for many charities throughout her years in the community. Liquid has gained media attention, has been interviewed and quoted in several kink related books, blogs, magazines, as well as appeared in a number of podcasts.
Liquid is the former Vice President of the Onyx Pearls NY Northeast Chapter, and has sat on the Board of Folsom Street East. Currently Liquid is the Vendor Coordinator for Tethered Together, as well as the Northeast Advocate for NCSF and the First Northeast Leather Person, where she uses her platform as a titleholder and background in Social Work & Mental Health to educate and empower others both in and outside of the BDSM/Leather & Rope community.
Studio Kokoro Live Terms - Please read before purchasing your ticket
Please read and accept this information about joining Kokoro Live. By purchasing a ticket you agree to the below information:
All events are scheduled for GMT timezone (London, UK Time)
Our classes take place at different times please check the time carefully for each event, even with the same presenter.
If you purchased your ticket via an event on FetLife, please note that FetLife changes the event listing to your own local time. Please use the times given in this ticket.
Tickets are 1 per house hold (assuming you are using the 1 zoom) if you need 2 zoom windows open, then you will need to purchase 2 tickets.
Budget tickets are for those with low income, freelancers, unemployed, UC holders, and anyone struggling financially.
These are live classes and not recorded, they cannot be viewed after the event itself, please consider this when purchasing.
Tickets are non-refundable / non-transferable to another class - you get the password and room information in your ticket so we are unable to refund / transfer if you cannot attend. Please consider this before purchasing your ticket.
You do not need to turn your video on and all microphones will be muted during the class.
You will need to download zoom (free) to access this class.
We advise you check the time in your timezone, you can use https://www.worldtimebuddy.com/ to help with this.
If you have any questions about attending a Studio Kokoro Live Class please see our Frequently Asked Questions Page before contacting us. It is very likely your question may be answered there.
We look forward to welcoming you to this Kokoro Live Class.