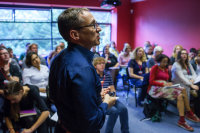 The number one reason why great ideas (and even developed scripts) written for longform television fail at the final hurdle, is poor structuring.
NOW ONLINE
John Yorke should know. He wrote one of the greatest books on story structure ever written – 'Into The Woods' – and as the former head of Ch4 Drama, BBC Drama, Company Pictures, his resume clearly speaks for itself. Plus that Golden Globe for Wolf Hall doesn't hurt either. Suffice it to say, this guy knows his onions!
In early 2020, John Yorke's sell-out Television Advanced Structure Masterclass returned to a packed audience – updated, enhanced and expanded into a 2 day immersive weekend guaranteed to be the gamechanger that takes your career and projects to unimaginable new levels. And we are now ruinning it again. But now ONLINE and from your own home, with lessons available for six months afterward.

Half lecture, half practical workshop, this two day masterclass is designed to allow immediate application of principles, techniques and theories to your works; either pre-existing, in development or merely nuggets of ideas that you will shape into existence during the class.
The weekend will break down into three focused areas:
The Structure
Master the single structure that is present in all great stories
Understand how all other story models fit within this single structure
Address how structure and character can be successfully integrated into pilots and stretched over entire seasons
Learn to see the DNA beneath your story, characters, premise, situation, action and dialogue
Learn how that DNA works, how to modify it, and how you can better use it in all your stories moving forward
Practice rapidly developing stories within this structure
The Business
Understand the needs of the business, beyond your story and script
Analysis of the current market place – identifying current and popular trends and how to avoid guaranteed failure
Learn how your story must adhere to strict industry structure needs and why
Learn to think like a story development executive or producer in order to meet the needs of the business
Learn how to remove the road blocks that can cause your deal and project to falter even if it is great writing
Practice rapid story development and pitching
Targeting the networks – what they do, what they're looking for and why you may be better suited to some more than others
Practical Application
Pitch development – solo and in groups
Rapid fire pitching – of your own and other people's projects
Devising a new TV series from scratch inc. character creation/development, pilot outline, story arc, series arc, story bible

Plus on both days, John will be inviting special industry guests to speak about their careers past and present, breaking in, the current ever evolving landscape of the business, what the commissioners are looking for in writers and their projects and how to get your scripts onto their desks.
After selling out his one day seminar for the past two years, John is expanding the class and introducing more practical exercises exclusively for this weekend. Expect breakthrough after breakthrough clearing a path for you to fulfill your greatest potential.
Spaces are limited so sign up now to ensure you don't miss out on this opportunity to make massive improvements to your writing and get the insights and access necessary to elevate your career.
Here's what previous delegates had to say:
'John Yorke gave the best explanation and POV on story structure I've ever heard!'
Mike O'Reilly, Screenwriter
'John Yorke was amazing, the cave/forest/wood concept was a real 'unlock' moment for me.'
Matt Harlock, Screenwriter & Director
'John Yorke's session was fantastic – I learned loads and he simplified everything into easily digested stuff.'
Sarah Cassidy, Screenwriter
'I understand a lot better now how to create a premise that works for commissioners, what questions they ask, and how to pitch it.'
Kristina Day, Screenwriter
'John Yorke knows story structure inside and out and taught us in a way that was simple, engaging and memorable.'
KT Parker, Screenwriter