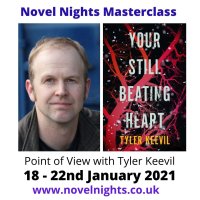 Decisions about point of view are one of the most fundamental a writer makes when writing a novel. In this short online course, award-winning novelist and short story writer, Tyler Keevil will discuss point of view in fiction, including using the second person in short and long narratives.
The course will look at a selection of works by well-known writers, and see how they handle point of view. Writers will have the opportunity to develop their own pieces of writing, to share with the tutor and classmates. This process will lead up to an online small group workshop with the tutor, in which writers discuss and provide feedback on each other's work and they will have the opportunity to ask questions about the writing industry and pathways to publication.
The course fee includes a copy of Tyler's latest novel, the literary thriller, Your Still Beating Heart (Myriad Editions, 2020). This will be sent out once the course is full to the address you provide on checkout. 
The course will take place over the week of 18th - 22nd January. The 'live' element of this course is on Friday afternoon between 2 - 5 pm for one hour and fifteen minutes where you will participate in an online interactive class with Tyler Keevil. On the other days you will receive a video, writing exercises and share your work with Tyler and others for feedback.  
Timetable:

Monday 18th  January 2021. A video is sent out to participants that can be watched in your own time. Tyler will explore point of view, providing examples from well-known writers, and set a writing exercise for participants.
Wednesday 20th January 2021. Writers will upload the writing exercise, up to 500 words, and share this with classmates and Tyler Keevil via email.
Thursday 21st January 2021. Writers will read each other's work and provide written feedback.
Friday 22nd January 2021. ONLINE. Between 2 - 5pm Writers will be split into two groups and will attend one of the workshops for 1.15 hours with Tyler and classmates to discuss and provide feedback on each other's work. Exact times will be emailed to you closer to the event. 
About your Tutor
Tyler Keevil is an award-winning writer and the director of the MA in Creative Writing at Cardiff University. In addition to teaching undergraduate and postgraduate classes at university, he has taught numerous residential and one-day courses with writers of all ages.
He has previously led Novel Nights events on writing and place, and music and the muse. He is the author of four novels and the short story collection, Burrard Inlet.
His writing awards include the Wales Book of the Year people's choice award, and the $10,000 Writers' Trust McClelland & Stewart Journey Prize. His most recent book is the literary thriller Your Still Beating Heart (Myriad, 2020).
Course sizes will be kept low to maintain quality with a maximum of six per group.