---
---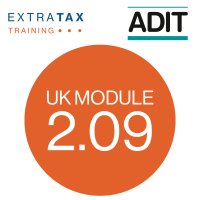 Book your online training package for the June 2021 ADIT UK Module 2.09 exam

You'll join a weekly online ADIT class, with no more than 15 participants, to prepare you for your June 2021 exam. The lead tutor is Catriona Loughran ADIT, an experienced ADIT lecturer who will share her UK & international tax knowledge to guide you through the syllabus.  
The tuition classes run from 4pm - 6:30pm (UK time) on Thursdays, commencing on Thursday 11 February and running for 10 weeks, with a break for the Easter holidays.  
All sessions are securely recorded, allowing you to watch them at any time to catch up or study at your own pace.  
The tuition classes are followed by intensive online revision sessions to prepare you for the exam. The revision sessions will be held over two weekends in May with a focus on exam technique and consolidating your knowledge through preparing answers to past examination questions.



During the course, you'll do weekly assignments and a full mock exam, receiving one-to-one feedback. You'll have one-to-one access to tutors to discuss topics and answer your questions.
Your package includes e-learning study materials written by leading international tax practitioners specifically for the ADIT UK module.
The course fee is £2,225. 
Book by Friday 29 January and benefit from a 10% early bird discount - you pay £1,999.
Want to making a multiple booking? Get in touch at info@extrataxtraining.com to find out about available discounts.



Your training package for the ADIT UK Advanced International Tax option includes:
2.5 hours per week of live tuition across 10 weeks, with accompanying slides and weekly assignments

E-book study materials written specifically for ADIT students

Practice questions and answers

Intensive online live-stream revision sessions, including a full mock exam followed by one-to-one feedback 

Access to tutors for ongoing support

Private recordings of all live webinars to watch back or catch up

One-to-one time with tutors to raise queries and discuss practice questions

Becoming part of an active learning community through our dedicated portal