---
---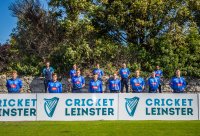 Firstly thanks to all those who have supported the Cricket Leinster Patron's Club over the past 12 months - we are pleased to advise that you now have an opportunity to renew or take out membership for 2021.
As you probably know, the Cricket Leinster Patron's Club provides interested parties, fans and supporters with an opportunity to formalise their relationship with Cricket Leinster and in doing so, to contribute to our Club Development Fund.

Membership of the CL Patron's Club for 2021 will include the following benefits:
- Free copy of the Cricket Leinster Annual Report & Season Guide for 2021
- Access/invitation to Patrons Table for Cricket Tea at all Leinster Lightning home 50-over and T20 events
- Option to have your name published as a Patron in future Cricket Leinster Annual Reports
- Free entry into a limited ticket raffle for a Turkish Airlines flight to anywhere in the world
- Opportunity to purchase CL Centenary Book at 33% discount (limited to 3 copies per patron)
- Free entry to all Leinster Lightning fixtures including any marquee events outside the Inter-pro structure
We would very much appreciate your support on this by clicking the link.
A welcome pack will then be issued to you in due course.