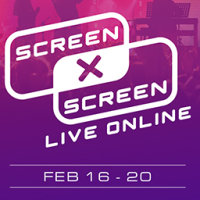 Indie Week presents:
SCREEN X SCREEN
FEB 16 - 20, 2021
TICKET PRICE : $50

'SCREEN X SCREEN' a new online conference launching in FEB 2021
emphasizing live-streaming, gaming,
AI, virtual reality and tech in the music industry.
Artists Lil Nas X, Marshmello and Travis Scott are performing concerts
in video games such as Fortnite and Roblox,
Billie Eilish has stunned the world with her incredible livestream.
What's next for the Industry?
How do other businesses and artists access this technology
and generate income and monetization?
After the success of moving Indie Week online, it just made sense to launch a new event that focuses on the future and new business models. We have to look at the new opportunities that are being presented, and I believe that this is an amazing time for businesses and artists to grow at an explosive rate with an engaged global online audience. Live streaming, gaming, VR, and AI, are going to play an integral role.
Darryl Hurs (founder of Indie Week)
SCREEN X SCREEN is going to be a deeper conversation
about embracing the digital world.
SPEAKERS:
Deborah Mannis-Gardner (DMG Clearances, Inc. / USA) • Ty Roberts (FANTRACKS / USA) • Ken Umezaki (Verifi Media / USA) • Chris McMurtry (Exactuals / USA) • Stephen White (StageIt / USA) • John Petrocelli (Bulldog Media / USA) • Hazel Savage (Musiio / Singapore) • Fabrice Sergent (Bandsintown / USA) • Andrew Hampp (1803 LLC / USA) • Matt Boerum (Audible Reality / USA) • David Hazan (Midem / USA) • Yvan Boudillet (TheLynk / France) • Tim Westergren (Sessions / USA) • Allison Shaw (Manic Monkee / USA) • Robert Singerman (LyricFind / USA) • Darryl Hurs (Indie Week / CD Baby / Canada) • Sarah Guppy (Gig Life Pro / Australia) • Piyapong Muenprasertdee (Fungjai Co, Ltd / Thailand) • Peter Åstedt (Future Echoes / Sweden) • Mattias Tell (Westside Music Sweden / Sweden) • Luciana Pegorer (Trends Brasil Conference / Brazil) • Paul Saunders (Cashbox Radio / Canada) • Michael Wojewoda (BOP Inc / Canada) • Lina Ugrinovska (Password Production / Macedonia) • Larry Heath (Sounds Australia / Australia) • Joe Celso Guida (CulturaXchange / Brazil) • Jeff Liebenson (Liebenson Law / USA) • Byron Pascoe (Edwards Creative Law / Canada) • Jonathan Campbell (Global Toronto / Canada) • Karen Allen (Twitch For Musicians / USA) • Noemí Planas (WIN Worldwide Independent Network / Spain) • Mike Warner (Work Hard Playlist Hard / USA) • Don Graham (Cashbox Radio / Canada) • Andrea DaSilva (U.S Department of Commerce) / USA • Mike Bell (The New Colossus Festival / USA) • Eric de Fontenay (MusicDish*China) • Gigi Johnson (Rethink Next / USA) • Pedro Suarez (Bunkamericas / USA) • Tony Boden (Northern Music / UK) • Harrison Lee (Riff Inc. / Canada) • Adam Lewis (Planetary / USA) • Ariel Hyatt (Cyber PR / USA) • Derek Hoffman (Fox Sounds / Canada) • Fabian Alsultany (Bitfury Surround / USA) • Apryl Peredo (Inter Idoru Artist Management / Japan) • Barry Rooke (NCRA / Canada) • Dale Penner (Paradise Alley Productions / Canada) • David McLoughlin (Brasil Calling / Brazil) • Brian Penick (Muisc Career Map, Inc. / USA) • Carlos Estigarribia (Avakin Life) / Brazil • Guilherme Sampaio (Smart Rights) / Brazil • Rebecca Helgeson (Found.ee) / USA • Demitra Best (Hipster Bait) / Canada • Itu Mamasedi (Streamodo) / Africa • Elia Mssawir (Big Beards Entertainment / United Arab Emirates) • Constantine Roussos (MUSIC / USA) • Cristobal Dañobeitia (Digital Observatory of Chilean Music) / Chile • Félix Barros (Fanear Labs) / Chile • Majeidah Dolo (AfroXilla Media) / USA • Brad Alford (HomePlay) / Canada • Justin Kantor (National Independent Venue Association) / USA
Join us for an important and exciting look at what the future will look like.