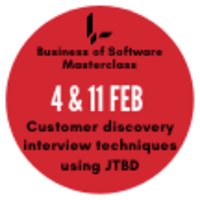 Understanding why users 'hire' your product can make the difference between success and failure of your product.
Bob Moesta (JTBD co-architect and co-founder, The ReWired Group ) and Greg Engle (co-founder, The ReWired Group) will lead you through an interactive masterclass that will help you to plan, conduct, and process customer interviews using Jobs-to-be-Done theory.
Jobs-to-be-Done provides a framework to help you leverage the force of your customers' behaviour in order to drive your product improvement.
People don't simply buy products or services; they pull them into their lives to make progress. We call this progress the 'job' they're trying to do. (Most people don't want to buy a 1/4" drill, they want a 1/4 " hole…). Understanding this opens a world of innovation possibilities. The theory of Jobs-to-be-Done helps you understand customer behaviour. Jobs Theory goes beyond superficial market demographics or product attributes categories to expose the functional, social, and emotional dimensions that explain why customers make the choices they do.
This Business of Software Online Masterclass is an opportunity to learn how to put the theory into practice with Bob Moesta, a leading thinker in the field and one of the most brilliant business teachers on the planet.
The Masterclass is limited to just 24 attendees, to ensure attendees get maximum interaction time with Bob.
You Will Learn
Jobs-to-be-Done theory: Discover how customers' behaviours are driven by the progress they are trying to make and the circumstances they are in.
Interviewing technique: Observe and practise interviewing customers to discover why and how they choose and use specific products and services.
From observation to insight to product specification: Create a concise summary of customer Jobs-to-be-Done to inform product development and improvement.
Dates & times
This BoS Masterclass will take place in two sessions. You will be also be set approx one hour of work to be completed before the first session.
Session 1 (Length = 3 hours): 7am-10am PT / 10am-1pm ET / 3pm-6pm BST, Thursday 4th February 2021
Session 2 (Length = 1 hour): 7am-8am PT / 10am-11am ET / 3pm-4pm BST, Thursday 11th February 2021
About the Masterclass Leaders: Bob Moesta & Greg Engle
Bob Moesta is a founder, maker, innovator, speaker, and now a professor. Pioneer of Jobs-to-be-Done theory, an expert on creating, developing, and launching new products and services. His work with tech companies such as Intercom, Basecamp and many more has helped adapt the Jobs-to-be-Done theory to technology products. One of the principal architects of the Jobs-to-be-Done theory in the mid-90s along with Harvard Business School Professor Clayton Christensen, Bob has continued to develop and apply the innovation framework to everyday business challenges.
Greg's constant curiosity and extraordinary perception enable him to recognize patterns before anyone else. He's keenly observant, picking up on nuances of words, tone, and body language to quickly figure out how people work, what motivates them and what they will do next. Combining his perception and pattern recognition skills with extensive sales and sales management experience, Greg is a natural teacher and coach. He motivates individuals and teams utilizing everyone's strengths to pull it all together. He believes that teaching is about skills – that people have to be able to do – not just know it.