---
---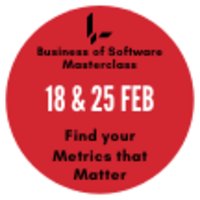 You get what you measure (for better or for worse). In this BoS Online Masterclass, Matt Lerner will work together with you to define your key customer behaviour metrics for 2021, so your whole team can align and focus on the most impactful work.
In this BoS Masterclass, Matt Lerner will work with you directly to apply the "Metrics that Matter" framework (from his BoS 2020 presentation) to your specific businesses, and translate that into concrete priorities for 2021.
You will get:
Define your North Star "value delivery metric" and 2-4 key drivers that move it
Zero in on your "rate-limiting step" where you can focus for max impact (Matt's perspective is super helpful here!)
Benchmark comparison - Matt can help you find your bottlenecks, based on his experience with hundreds of other companies.)
Map out a plan to deploy the metrics and align the company around them, including a dashboard, regular cadence of conversations, and a set of simple questions to help people at every level reflect on their work and prioritise better.
Identify owners in your team to focus on each key driver
The two sessions:
Identify your metrics (like Matt's session at BoS, but deeper, with feedback for each company)
Iterate and rollout - Review with actual data, look at the implied tradeoffs, and talk through the process of rolling these out to your company, common problems and concerns and how to handle them.
About Matt Lerner
Matt spent most of his career building and running marketing teams in Silicon Valley, including PayPal (and some less famous startups). After moving to London, he developed and led 500 Startups "Distro Dojo" growth accelerator, which helped 35 startups achieve an average YoY growth of 250%. After watching hundreds of European startups waste investors' money on bad marketing hires and expensive non-scalable tactics, Matt founded Startup Core Strengths, a structured coaching program to help startups learn the foundational mindset and habits to drive sustainable growth. Matt occasionally lectures on Startup Marketing at Imperial College and Stanford Business School.