---
---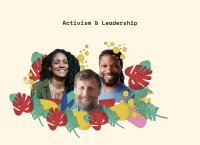 How can we re-imagine "activisms" and transform our methods and attitudes to ensure both inner and outer transformation? How can we expand our understanding of who we are and where we are, whilst building cross-movement solidarity and co-creating transformative societal change? How can we unite, within and without?
We will be gathering our learnings to investigate how we can participate in co-creating a world that thrives with joy and celebration.
With:
brontë velez, activist and creator working with urban gardening and social justice, with an intention to compost the violences forged by environmental racism through radical imagination; 
Alastair McIntosh, a Scottish writer, broadcaster and activist on social, environmental and spiritual issues;
Adrian Kawaley-Lathan, peacebuilder, storyteller and communicator transforming apathy into action.
_____________
Upcoming Events:
January: Depression & Addiction
February: Death & Grief
March: Embodiment, Movement & Trauma
April: Meditation & Consciousness
May: Myth, Imagination & Story
June: Reimagining Activisms
Find out more about Advaya and their upcoming events by visiting www.advaya.co