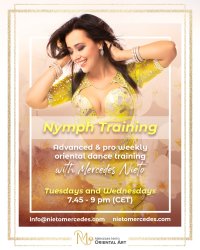 Live online weekly advanced and professional trainings with Mercedes through Zoom:
Every Tuesday and Wednesday 7:45 - 9:00 pm CET
The discounted multi-class tickets are valid accordingly:
4-class ticket valid for 4 weeks
8-class ticket valid for 5 weeks
Nymph Training - B-DAY Week
It's been a year since we've started to train online with some dedicated dancers from around the world. We've been dancing through pandemic, riots, personal ups and downs, lifting each other's spirit with sending some smiles through the screen week by week. Let's celebrate us!
If you're already a student of the Nymph Training: join our private BD celebration after Tuesday's training! (March 30 from 9 pm CET)
If you'd like to try a class: join us on Wednesday for the free open class. (March 31 7.45 - 9 pm)  Free entry, but limited spots, please sign up by choosing the Online Live Nymph Training - B-DAY training 31.03. ticket!
Every Nymph Training student with a valid class-card will receive an extra class as a gift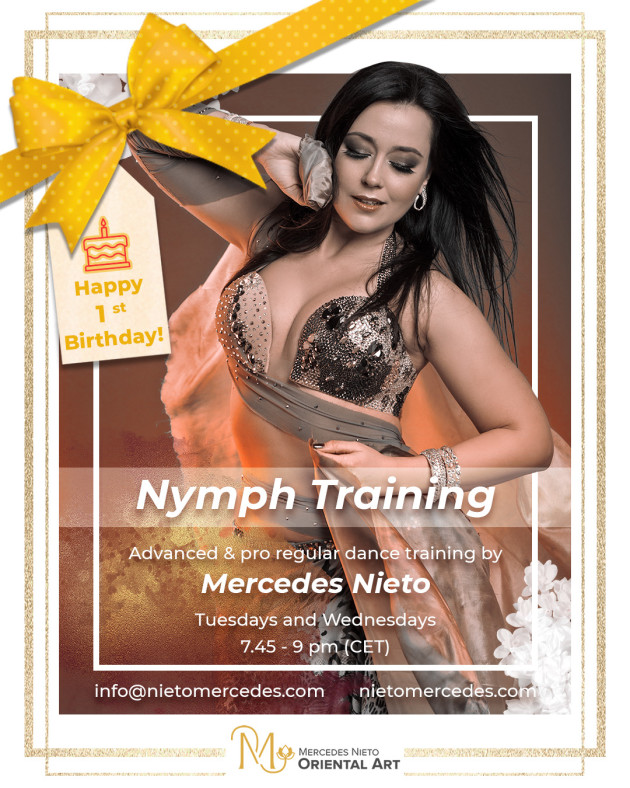 🇭🇺
A magyar táncosok számára lehetőség van Forint utalásra is:
8-alkalmas bérlet: 32.000 Ft
4-alkalmas bérlet: 17.000 Ft
órajegy: 5.000 Ft
Banki utalás (magyar számlára):
Mercedes Nieto Oriental Art
Nieto Mercedesz
Budapest Bank
Bank számlaszám: 10103104-41873100-01004009

A közleménybe, kérlek, írd le melyik dátumokra szeretnél jelentkezni!