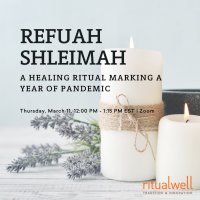 When the World Health Organization first declared the coronavirus global pandemic, on March 11th, 2020, our lives changed forever. We have collectively experienced loss, illness, fear, and uncertainty. We have been forced to adjust to a new reality and felt the psychological effects of isolation and changed routines. And we have barely had time to process this radical shift in our lives, as we struggle to meet new challenges each day.
Join Ritualwell to mark the one-year anniversary of the pandemic with a ritual to hold our losses and create hope for healing. We will mourn those we have lost, pray for those who are sick, acknowledge the changes in our lives, express gratitude for the vaccine, and set intentions for better days to come.
We will create a shared ritual through prayer, poetry, music, ritual, and guided visualization. We invite attendees to actively participate by bringing names of those you want to memorialize, names of those who are sick, and names of essential workers, doctors, and scientists you want to lift up.
This event will include the world premiere of two original new songs by Alden Solovy & Sue Horowitz and by Solomon Hoffman
Hosted by Hila Ratzabi, Executive Editor of Ritualwell

Featuring
Rabbi Sandra Lawson, Trisha Arlin, Kohenet Shamirah Bechirah, aka Sarah Chandler, Cathleen Cohen, Rabbi Haviva Ner-David, Alden Solovy, Heather Paul, Suzanne Sabransky, Cantor Vera Broekhuysen

With music by: Elana Bell, Solomon Hoffman, & Sue Horowitz

About Ritualwell
Ritualwell is the most extensive online resource that curates original Jewish rituals for Jews and fellow seekers. We publish rituals, ceremonies, prayers and poems to mark sacred moments in Jewish life. Through creating and sharing rituals, hosting Ritualwell Immersions (online learning experiences), curating an online Judaica shop and hosting Rabbi Connect, Ritualwell fosters a supportive environment for Jewish creativity, spiritual growth and discovery. Learn more at www.ritualwell.org.

Ritualwell is committed to offering an accessible space to our community members. We commit to:
Providing participants with all the session materials ahead of time
Providing automated captions on all live sessions
Providing subtitles for all recorded sessions
Using the chat function and read it aloud during the sessions
Asking for participant accessibility needs and doing our best to accommodate them. Please feel welcome to contact us at ritualwell@reconstructingjudaism.org.