---
---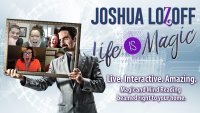 NEW SHOW! NEW MATERIAL!

A fully interactive, fully magical hour-long show beamed right into your own home.

You may have seen Joshua astounding television audiences on Penn & Teller: Fool Us, or on any number of other TV shows and movies (including Cheers and Clueless).

In this brand new 60-minute show, Joshua will amaze and amuse, and quite possibly read your mind from hundreds or thousands of miles away!

The show is designed for all ages, and is highly interactive.

You and your family won't just be watching a screen, you will be part of the magic, with a front row seat to the most magical night you've had in a long time!

Your ticket is good for everyone in your household, so round up your crew, silence the phones, hide the PS5, find Grandma's glasses, and gather around the biggest screen you've got. This show is for everyone!