---
---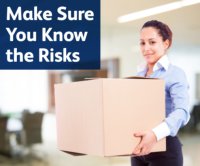 Objective - The objective of the course is to benefit learners through developing their understanding of the principles of manual handling and providing them with the opportunity to practise and apply the principles of safer manual handling of objects so they can operate in a safer working environment.
Purpose - The purpose of this course is to develop knowledge and skills relevant to manual handling.
Intended audience - This course is ideal for those who perform manual handling duties in the workplace, including industrial and office based environments. It is suitable:
As an introduction to those starting work which involves carrying out manual handling activities
For those returning to work where manual handling activities are required
As safety refresher training
What's Covered?
Understanding the importance of safe manual handling
Know how manual handling risk assessments contribute to improving health & safety
Understand the principles, types of equipment and testing requirements associated with manual handling safety
Be able to apply safe manual handling principles
Course includes:
Expert tuition
FREE Tea, Coffee, Juice and Biscuits
Manual Handling Awareness Certificate
10% discount on all our first aid supplies

Cancellations Policy
We regret that complete fees will be payable if notice of cancellation is received less than 14 days prior to the course start date or if the student fails to attend for whatever reason. Cancelation within 15-30 days of start date will incur a 50% cancellation charge. Cancelation 31-60 days of start date will incur 25% cancellation charge. Cancellation over 61 days will incur an administration charge of 10% of the course fee. All these rules apply regardless of the time frame of booking.