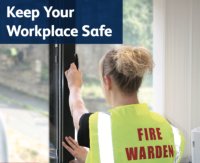 Objective - The objective of the course is to benefit learners through developing their fire safety awareness. It helps learners build an understanding of fire safety management at work and the specific roles and responsibilities related to fire safety in the workplace.
Purpose - The purpose of this course is to develop learners' knowledge and skills in fire safety.
Intended audience - This course is for anyone who has a specific responsibility for fire safety in the workplace. It is suitable to: 
• Qualify fire wardens/fire marshalls
• Provide a foundation of fire safety knowledge on which employers and 'responsible persons' can build
• Increase the fire safety knowledge of all employees
What's Covered?
1. Understand the hazards and risks associated with fire in the workplace
1.1 Recognise how fires are caused in the workplace

1.2 Identify the components of the fire triangle

1.3 Identify the hazards during or after a fire, including the products of combustion

1.4 Recognise the characteristics of fire and smoke spread
2. Understand how fire risk is controlled in the workplace
2.1 Recognise the different methods used to identify and control fire hazards

2.2 Recognise the definition of 'means of escape' in relation to fire hazards

2.3 Identify typical components for means of escape from fire hazards

2.4 Recognise methods of fire detection and raising the alarm

2.5 Identify the principle of how fires are extinguished

2.6 Recognise how portable fire-fighting equipment should be used safely

2.7 Identify common fixed fire-fighting systems and where they might be used
3. Understand the principles and practice of fire safety management at work

3.1 Recognise the duties of employers and employees with respect to fire safety in the workplace

3.2 Identify how to undertake a simple fire safety inspection in the workplace

3.3 Identify the stages involved in a fire risk assessment
4. Understand the role of the nominated fire warden
4.1 Identify the role and function of fire wardens in their workplace:

on a day-to-day basis

during an emergency

if they are not in their designated areas of responsibility when the alarm is raised

4.2 Recognise the content of a fire safety briefing
Course includes:
Expert tuition
FREE Tea, Coffee, Juice and Biscuits
Fire Warden/Marshall Certificate
10% discount on all our first aid supplies

Cancellations Policy
We regret that complete fees will be payable if notice of cancellation is received less than 14 days prior to the course start date or if the student fails to attend for whatever reason. Cancelation within 15-30 days of start date will incur a 50% cancellation charge. Cancelation 31-60 days of start date will incur 25% cancellation charge. Cancellation over 61 days will incur an administration charge of 10% of the course fee. All these rules apply regardless of the time frame of booking.