---
---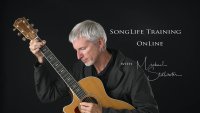 Develop your songwriting and chantmaking skills with a celebrated innovator and recording artist in the field of universal chant.

For fifty years, across the contemporary spiritual singing landscape of America, Europe and Australia, Stillwater's songs and chants have been sung and recorded in countless gatherings. An award-winning songwriter with a focus on English chant- repeated choruses with infectious melody and rhythmic motifs- he discovers new material born from the endless harvest of intuitive songmaking.
Participants will have opportunity to refine their original songs by musical mentoring with Michael in the supportive atmosphere of an international gathering of aspiring and performing songwriters.

Playing an accompaniment instrument (guitar, ukulele, keyboard, harmonium, etc) is helpful. Reading music notation / guitar tablature is helpful but not required.
Duration: 7 Weeks, 90 minutes each class
* Limited to 24 participants
* Seven-week course for 250 € (PayPal thru this site)
* May also be transferred to Michael Stillwater bank account, IBAN FI56 5723 0220 5456 72
* Returning participants, 200 €
* Contact us if partial scholarship requested
* Sessions will be recorded and available to participants for study/review.
* Alternative option: Audit all course video (offline)- $150- LINK
This is the fourth offering of Songwriting & Chantmaking, and will take place weekly (Tuesdays) from March 9 through April 20, 2021, on Zoom.
Link to Michael Stillwater's recordings: link
Link to Stillwater Treasury of Chant & Song (songbooks): link