---
---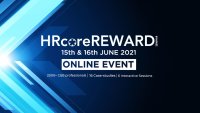 TICKET TYPES
Free Ticket - 0€ - Full access to all the content during the event. Only for corporate HR professionals!
VIP Ticket - 25€ - Full access to all the content during the event PLUS all the session recordings & presentation slides and access to the Media Library after the event. Only for corporate HR professionals!
Vendor/Consultant/Freelance Ticket - 250€ - Choose this ticket, If you currently are NOT a corporate HR professional.

-----------------------------------------------------------------------
Add event to calendar
Apple • Google • Outlook • Outlook Web • Yahoo
------------------------------------------------------------------------

This annual edition of the 'HRcoreREWARD' Seminar is an invigorating two-day event designed to address today's challenges in rewards, employee experience, performance management, employee wellbeing, compensation strategies and much more.

It will keep you up to date with the latest trends, new ways of doing, new opportunities to secure the future of your C&B initiatives.

Attend and be better equipped to:
Motivate your employees to deliver the vision of business
Design innovative, efficient and effective reward systems to boost motivation
Communicate the value of Total Rewards to your employees
Develop impactful strategies with Analytics
Evaluate your organisation's existing strategies using current trend information
Discover new ways to build a "Best Place to Work"
Maximise employee engagement with creative rewards and incentives
Understand why engaging employees is the path to profitability and business growth
IMPORTANT!!! The 'FREE TICKET' and 'VIP TICKET' are only available and valid for Corporate HR Professionals. If you currently are a FREELANCE HR PROFESSIONAL / CONSULTANT / VENDOR or PROVIDER of HR RELATED SERVICES or PRODUCTS, please select 'VENDOR/CONSULTANT/FREELANCE TICKET' or contact greg.miller@teneoevents.eu for a quote. Teneo Meetings S.L. reserves the right to void and CANCEL WITHOUT REFUND any ticket that violates this point.