---
---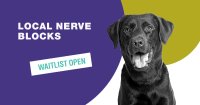 With today's increasingly complex surgeries, the spotlight is also on providing sufficient anaesthesia to relieve animal pain and suffering. Managing pain can be difficult at times and there has been corresponding improvement in drugs, equipment and techniques. Whilst local nerve blocks have been used for many years with great success in the human world, the veterinary world can now benefit from the growth and knowledge in this field.
With our hands on practical's and up to date information, you will have the confidence to start providing high quality and cost-effective pain management for many cases. You can use local anaesthetic blocks in both forelimb and hindlimb orthopaedic procedures, and other procedures as well, and there are numerous advantages for your patients in clinical practice.
VetPrac, the whole experience!