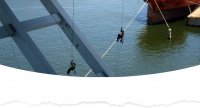 Rope access provides a safe, cost-effective, and efficient means of access, egress, and positioning for work at height. So whether you are a building, bridge or dam inspector, an engineer, a window washer, a rock scaler, a tower climber or a theatrical rigger, adding a SPRAT® certification to your toolbox will help improve jobsite safety, efficiency and offers the added credibility that comes with a rigidly administered third party evaluation.


This four-day course provides students with the knowledge and skills they need to pass the SPRAT® certification session that is held on the fifth day of the course by an independent SPRAT® Evaluator.
*ALL certification levels require a valid form of government-issued photo identification (drivers license, passport, etc.) to be presented to the evaluator.

**If you are testing for Level 2 or Level 3, you MUST bring your documented 500 hours of rope access work for the evaluator to review! Please visit the SPRAT® website (www.sprat.org)for details on necessary hours.

This PMI® SPRAT® Course begins on a Monday morning at 8:00am and runs to approximately 5:00pm each day, for five days. Monday through Thursday the instructor will convey all necessary skills and knowledge required to pass the evaluation. The evaluation will be conducted on the final day (usually a Friday) by a SPRAT® approved Evaluator.
Personal Protective Equipment (PPE)
All required equipment may be borrowed from PMI's Vertical Rescue Solutions; students may bring their own rope access equipment for use in the class, if desired. Personal Protective Equipment used for Rope Access should meet relevant standards for work at height, such as ANSI Z359. If you have questions about equipment you are bringing, please contact verticalrescuesolutions@pmirope.com

All ropes (11mm static) and anchorages will be supplied by the Host (VRS™).
Any personal gear the student brings will be inspected by the instructor/evaluator, who reserves the right to substitute student gear if it is deemed unsuitable or unsafe for use based on age, excessive wear, damage or unsuitability for Rope Access work.
Prices subject to change without notice.

This PMI® SPRAT® Course is in accordance with SPRAT® guidelines; a SPRAT® Rope Access Technician certification (Level 1, Level 2, or Level 3) will be issued upon successful completion.
After successful completion of this SPRAT course and evaluation, you will receive an Associate Membership with SPRAT. This is included in your evaluation fees to SPRAT, which is included in the course cost.