---
---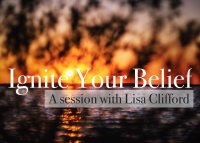 Ignite Your Belief 
Such a POWERFUL and ESSENTIAL session. All that you have, all that you are and all that you experience is aligned with what you believe is possible.
In this 2 hour session we will look at just how valuable your belief system is to experiencing what you truly want. We will remove those thoughts that get in the way of the experiences you want for your life. We break through the blocks that have caused you to doubt yourself and halt your progress. We then refocus your mind to the facts of just what is possible for you to experience, achieve and enjoy.
The session is practical, hands on and interactive ... a voyage of some more self discovery of the heart. No one is put on the spot ... unless you want it of course.
Sometimes, we cannot see the wood for the trees. Lisa is great in helping you to see your life in a bigger picture. She is caring, open-minded, open-hearted, loving, straight, thoughtful, with great energy… Within few sessions, she helped me clarify my life purpose I couldn't understand when I tried using different techniques or programmes. And then she supported me in setting clear goals connected to my purpose and my vision. She has a great gift – to guide you to find answers to the most important questions of your life within you." Miriam Filipova
Once you've booked you should receive a confirmation with the event details on and the Zoom link ... So check your junk and clutter boxes as-well, as your inbox and keep your confirmation in a safe place.
Big love Lisa xx