---
---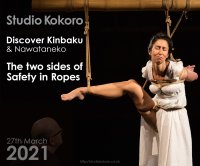 The two sides of Safety in Ropes with Discover Kinbaku

Safety in Rope Bondage is a complex issue, involving a lot of aspects. This class looks at safety for both sides: what the riggers can (must) do to mitigate the inherent risk of rope bondage and what people in ropes can do to maintain a high level of safety for themselves whilst having fun.
For doing the ropes, we look at safety through the lens of how other disciplines manage potential dangerous situations. We draw concepts from chemical engineering and extreme sports. The focus will be on how we tie - not on materials or hanging point installation. 
For rope bottoms, we will talk about the internal feeling of safety. How does it feel, when we are challenged, but still safe? How do we recognise for ourselves, when we are not safe anymore and what are our strategies to regain safety? How do we feel the difference between being "uncomfortable" and being "unsafe"? What inner "tools" do we have, to influence our own state?

This class will include a talk about our ideas on safety from both sides of the rope, as well as the live demo of the exercise that we found helpful for both partners together to explore the space between "uncomfortable" and "unsafe, as well as Q&A.

About Discover Kinbaku
We are Alexander NawaRonin and Natasha NawaTaNeko. Kinbaku and especially Seme-nawa in the style of Akira Naka as taught in Europe by Riccardo Wildties has become an important and enriching part of our lives. We share our passion by opening our Studio6x6 in Berlin for interested people and by performing and teaching Kinbaku together.

https://discoverkinbaku.com/en/
Studio Kokoro Live Terms - Please read before purchasing your ticket
Please read this information about joining Kokoro Live. By purchasing a ticket you agree to the below information:
All events are scheduled for GMT timezone (London, UK Time)
Our classes take place at different times on different days, please check the time carefully for each event, times may vary even with the same presenter.
If you purchased your ticket via an event on FetLife, please note that FetLife changes the event listing to your own local time. Please use the times given in this ticket.

Tickets are 1 per house hold (assuming you are using the 1 zoom) if you need 2 zoom windows open, then you will need to purchase 2 tickets.
Budget tickets are for those with low income, freelancers, unemployed, UC holders, and anyone struggling financially.
These are live classes and not recorded, they cannot be viewed after the event itself, please consider this when purchasing.
Tickets are non-refundable / non-transferable to another class - you get the password and room information in your ticket so we are unable to refund / transfer if you cannot attend. Please consider this before purchasing your ticket.
You do not need to turn your video on and all microphones will be muted during the class.
You will need to download zoom (free) to access this class.
If you struggle with time-zones, you can use google or https://www.worldtimebuddy.com/ to help with this.
If you have any questions about attending a Studio Kokoro Live Class please see our Frequently Asked Questions Page before contacting us. It is very likely your question may be answered there. If you have any further questions please get in contact with us directly.
We look forward to welcoming you to this Kokoro Live Class.