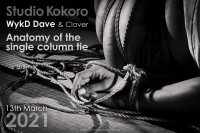 Anatomy of the Single Column Tie with WykD Dave and Clover
In all bondage, everything rests on the foundation of the initial tie. More often than not this is a single column tie. So often, the single column tie is referred to as 'Basic' yet how often do we see whole threads dedicated to the problems with various single column ties?
In almost all cases it is a lack of understanding which causes problems.

In this class we will examine the single column tie and break it down to develop a deeper understanding of this fundamental skill. With this understanding you will understand why problems arise and how you can apply this tie to different circumstances.

We will take you through why the tie is so important, some barriers and common problems people face and tips on how you can self assess your own single column tie.

The single column ties covered in this class are the granny knot and square knot.

Who is this for? This is a practical hands on class with exercises and demonstrations suitable for all levels, and is transferable to all styles of rope practicing single column ties. This is particularly useful for those at intermediate level looking to deepen their knowledge. You do not need a partner to take part in this class, you are welcome to tie on your own ankle or thigh to take part in this class. 
What to bring? You will need 1 length of rope.

As with all rope bondage practical skills, this will offer you a deeper look at this tie and we encourage in person learning with a reputable teacher to accompany this class.

About WykD Dave and Clover
WykD Dave and Clover are partners in life as well as rope, they are co-owners of Studio Kokoro and have been teaching together internationally for more then 10 years.
Dave's method of rope prides itself on technical proficiency balanced with the emotional experience of rope, formulated together with Clover. Inspiration for their approach to rope is routed in traditional aesthetics and the works of Sugiura Sensei, Nureki Chimo and Ito Seiu. Dave first met Naka san in 2013 when he began is studies with him and been exclusively studying with Naka san for more then 5 years.
Clover is most known for her creation of the Rope Bottom Guide and rope bondage photography.
Studio Kokoro Live Terms - Please read before purchasing your ticket

Please read this information about joining Kokoro Live. By purchasing a ticket you agree to the below information:
All events are scheduled for GMT timezone (London, UK Time)
Our classes take place at different times on different days, please check the time carefully for each event, times may vary even with the same presenter.
If you purchased your ticket via an event on FetLife, please note that FetLife changes the event listing to your own local time. Please use the times given in this ticket.
Tickets are 1 per house hold (assuming you are using the 1 zoom) if you need 2 zoom windows open, then you will need to purchase 2 tickets.
Budget tickets are for those with low income, freelancers, unemployed, UC holders, and anyone struggling financially.
These are live classes and not recorded, they cannot be viewed after the event itself, please consider this when purchasing.
Tickets are non-refundable / non-transferable to another class - you get the password and room information in your ticket so we are unable to refund / transfer if you cannot attend. Please consider this before purchasing your ticket.
You do not need to turn your video on and all microphones will be muted during the class.
You will need to download zoom (free) to access this class.
If you struggle with time-zones, you can use google or https://www.worldtimebuddy.com/ to help with this.
If you have any questions about attending a Studio Kokoro Live Class please see our Frequently Asked Questions Page before contacting us. It is very likely your question may be answered there. If you have any further questions please get in contact with us directly.
We look forward to welcoming you to this Kokoro Live Class.