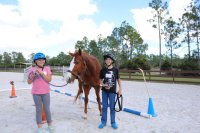 WELCOME to your dream business of working with horses to help people move forward in their lives. This certification offers you an eight-day training that includes 5-days live webinar OR choose the Online Training where you work at your own pace, and 3-days with hands-on learning at a location that suits you best PLUS so much more!
That's right! Training from the comfort of your own home.

Are you ready to break ground with a game-changing equine-assisted learning certification? Imagine having lifetime support for your entrepreneurial journey, PLUS understand how your horses communicate to have the most impact as a facilitator AND deepen/amplify their physical and emotional well-being!


LIFE CHANGING COURSE WORKING WITH HORSES IN A PROFOUND AND INSPIRING WAY TO HELP PEOPLE!
Our model is simple: Positively impact people's lives through working through objectively driven programs while keeping the welfare of the horse at the base of all we do. We do all of this through Equine Assisted Learning.
Equine Assisted Learning is a learner established educational, experiential program that is facilitated within a group format or one on one and focuses on ground activities rather than riding horses. More specifically, Equine Assisted Learning is a horse course with an effective solution to human development that promotes individual and group growth. People seeking the answers to their own lives with solutions to take the next step. Participants find themselves learning valuable life skills in these objectively driven exercises that are useful, strong, positive, educational, and creative. The Academy of Equine Assisted Learning's program highlights a curriculum program, includes 14 objectively driven exercises that includes, lesson plans, instructional material, activities, and hundreds of business items to facilitate life skills through positively augmented interaction with horses.

Specialists with the formula to help you to help people to be empowered to move forward in their lives while working with the horse. Through this powerful Horse Course which just isn't a wish; it's a reality, you start your new business with confidence! Live a life you were meant to live with horses and make a living doing what you love! It's Not Just A Course...It's A Career!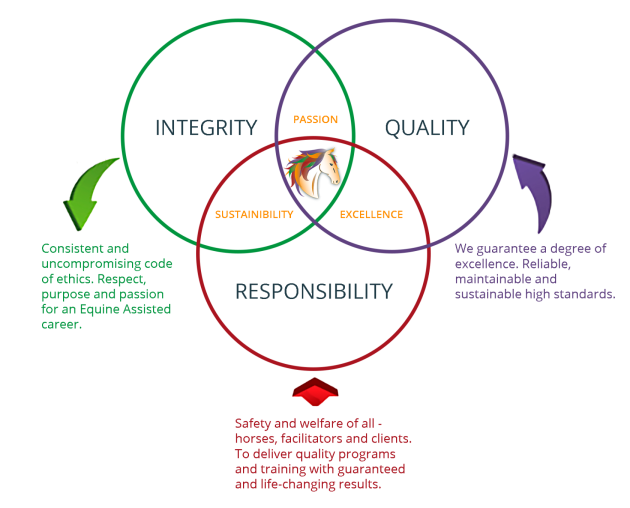 Frequently Asked Questions
Is this just a regular online course?
No! The course will be live and "in-person" and run just like all of the classroom portions in a face-to-face class. You will be able to ask questions, interact with each other and your instructors and still have the same high-quality certification education as you would in person!
OR
Online training at your own pace?

The Online Training course covers the same material, but in an online format and you can take as much or a little time as you like, but you will still need to complete the 3-day hands-on portion within 12 months of starting your online course.
Taking your certification this way includes;
A comprehensive four-month online study but you can go through as quickly or as long as you like.
Your online textbook and worksheets.
We will also mail out your textbook so you don't have to print it off.
The ability to attend single days at a time of the Virtual Live certification if needed.
Online virtual videos to help you work your programs until you can attend the 3-Day Hands-On Training.
Business Day you will want to join which is always Day Five of the Virtual Live Training and you can choose in Mountain Time or Eastern Time or Australia Eastern Time when you have completed the end of your online theory training.
Contact us through emails and teachable (platform for your training) with any additional help.
Example: You learn the material for Chapter Three but you want to understand the communication of the horse clearer come join us on one of the course dates listed on our website just for that specific day. **This one we promise you want to be a part of when you have the time in your schedule** Again, this can be for any of the chapters if you want.
Get the support! Meet the international family of facilitators who will help you and support you (along with your instructors) on the journey towards your dream career once you've completed the online training!
You must be completed the full Online Training course before you take the 3-day hands-on training at a location of your choice.

Computers and I don't mix! How can I do this?
Don't worry! We will give you step by step instructions on how to get on the webinar and how to participate. We have selected a platform that is pretty much clicking, and you are in! 
So am I certified after the five-day live online course OR after the Online Training?
Almost! You still need to complete the face-to-face training, but YES, you can start your business and get your business pack as well as get your online review course and access to the worldwide support group. You will have 12 months from the time your training is completed to complete your face to face three-day training to get your certification.
Is the three-day face to face portion mandatory?
Yes. All facilitators must receive hands-on experience to ensure that they are moving forward in the right direction with understanding how to hit your objectives in all the programs and ensure that the horse is the teacher versus you. You will be certified after the five-day live training OR the online training. You will then have a maximum of 12 months (however we recommend as soon as possible) from the completion of your training to complete your 3-day in-person training where you will receive your final certificate in person. For those who cannot travel - we are creating a system where you can move forward and train through tutorial videos.
Can I practice at home with my horses?
You bet!! You will receive 'how to practice tutorial' training videos after you've completed the 5-Day Virtual Live Training OR Online Training, how to facilitate your objectives that are designed in the programs that you receive with your business package. PLUS, when do you step in to facilitate the objective with the horse teaching and calling you in when it's time to do just that.
Why do I have to do the hands-on portion within 12 months?
The hands-on portion is necessary is for a few reasons.
To get you moving forward in your business and ensuring your facilitation is top-notch as soon as possible!

You will have forgotten a lot of the theory training if you don't put it into practice in an appropriate amount of time.

It is all about experiential learning and you need to experience it as well.

You get the expertise of the Instructors and the hundreds of programs they have run over the years!

You will build your network with other facilitators.

And obviously, because it is awesome.
Does it cost more because there is extra training that comes with the course?
Nope! Not an extra penny! In fact, it will save you money in accommodations, food or any vehicle rentals for the hands-on portion as it's only three days together!
Do I have to attend a specific face to face training?
Nope, you can attend any of the face-to-face training at any location, whether it be one week after your training or up to 12 months. Just head to our website and click on the 3-Day Training Locations 3 Day Hands-On Locations.  Whatever floats your boat for the best location!

What about time zones?
We are running the course in three time zones currently; Mountain Time 8:00 am, Eastern Time 9:00 am and Australian Eastern Daylight Time 8:00 am. This way, everyone will be able to join! If you are in Atlantic time, no worries, you can join our Eastern Time course. In Pacific? Come on into the Mountain Time course. In the Southern Hemisphere? No worries, the Australian Eastern Daylight Time can work for you!
What Is A Facilitator's Job? And Why Are We Needed?
As an Equine Assisted Learning Facilitator, we use a highly proven technique, to empower people to acquire, apply, and retain life skills - with the most unique and powerful four-legged teacher(s), the horse(s).
These programs help people to make their own decisions, help them to take responsibility for their own choices and actions, and come to healthy conclusions about the choices that they make.
When learning new skills, we are typically confined to a box, where we aren't given the freedom to explore learning in a way that works for us each individually.
In an Equine Assisted Learning setting, participants have the opportunity to try things differently.
As an Equine Assisted Learning Facilitator, our roles include:
🐴 Ensuring the safety of the participants.
🐴 Stepping in' to guide the participant's to understand what it is the horse is "saying" and understand how they can apply that learning to their own lives.
🐴 Providing encouragement and support.
🐴 Encouraging participants to think outside the box, take risks, or try on new roles.
🐴 Resolving conflict.
🐴 Empowering clients to find success!
A common misconception people have about our role as a facilitator is:
We are therapists or counsellors.
That is false!
We do not dig to discover the participant's feelings. Nor do we try and figure out "how" or "why" the participants got to where they are at.
Instead, we work with the horse(s), who acts as a "barometer" for where the people are at - giving us, as facilitators, a window of opportunity to guide and assist our client's learning journey, of building foundational life skills.
This means that the horse(s) reacts simply off of the participant's stimulus - whether it be calm, confused, frustrated, or excited.
And, we as the facilitator, help the participant to understand what it is the horse is "saying" so that they can apply the lessons they've been taught by the horse back to their everyday life.
This is a very unique, interactive and FUN way of learning...
However, it typically pushes people outside of their comfort zone - causing that 'uncomfortable' feeling, which often leads to some form of conflict, chaos or disorder. It is entirely normal and expected that teams within this setting will experience this - however, our role is to guide them back to success where they take what they've learnt in this 'new, uncomfortable' zone, and make room for growth and creativity, empowering them to expand their skillset, mindset, their knowledge of self and expand their individual comfort zones.
We provide a safe, supportive, positive space for people so that they can be empowered to make changes in-the-moment AND adjustments to their lives, habits and behaviours. Our role is to ensure that they find success while they work through different objectively-driven tasks and exercises!
Although these programs are typically held in a group setting, the unique facilitation technique that we use in our programs recognizes the individuals' journey of learning.
We as the facilitators bring every circumstance, situation, accomplishment, etc. back to the horse and what the horse is teaching, to help people to see what they are capable of, and what skills they need in their lives to move forward!