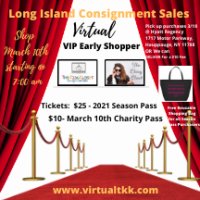 Whoa Baby! 2021 Sale Season is going to be AMAZING! 
Do you want to Presale access to shop over 25,000 items for Kids, Women, Men and Home Goods BEFORE The Public?
You have FOUR Options to choose from: 
* OPTION 1:  NEW for 2021 - SEASON PASSES @ $25:  That's right, your season pass will get you into EVERY SINGLE PRESALE EVENT in 2021 at the same time as the charity passes and you only pay ONCE!  PLUS:  You will get a COOL Kids Kloset/Classy Closet Reusable Shopping Bag.  For Online events, we will send you a special code to get into the presales. For On-site events, just bring your cool bag and that's your pass! That is a guaranteed $15 savings on on-site event EARLY SHOP Passes, but up to a $75 savings when you add in all our projected online events for 2021.
This is an AWESOME SAVINGS and YOU NEVER HAVE TO WORRY ABOUT SIGNING UP AGAIN ALL YEAR!! 
 PLEASE NOTE:  Season PASSES are LIMITED! First Come-First Serve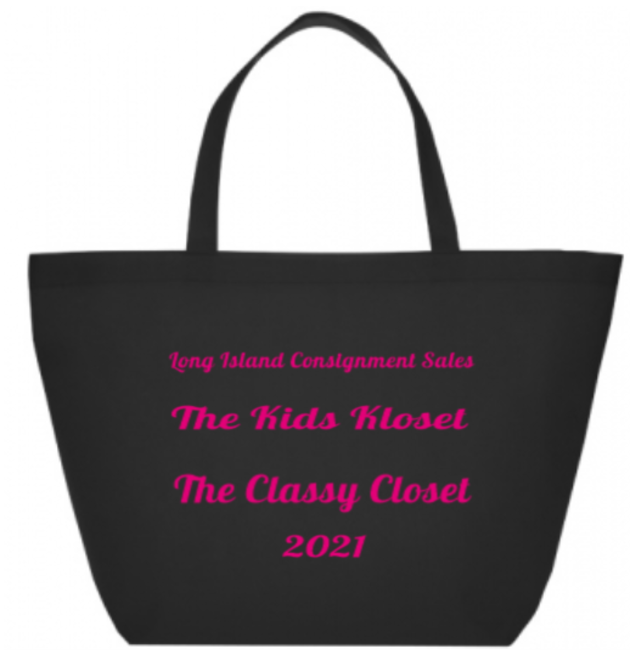 * OPTION 2: $10 One-Time Charity Pass: Shop at 7am starting on March 10th. Be one of the first ones to score from over 25,000 Items and help your community at the same time.
* OPTION 3: FREE - HEROES PRESALE Shop at 10am starting on March 10th. You qualify if you are or are the spouse/significant other of: Police, Fire, Rescue, Military Active or Veteran, Teacher, Hospital or Medical Worker, Essential Store Worker  OR our parent heroes that toughed it out homeschooling the kids or adapted to working remotely with kids. 
* OPTION 4:  FREE - NEW MOMS, EXPECTING MOMS OR GRANDPARENTS - Shop at 11am starting on March 10th. 
*****************************************************************
The Kids Kloset and The Classy Closet are combining to bring you the BIGGEST ONLINE SALE YET!  

EVENT LINK ON PRESALE DAY: www.virtualtkk.com

SHOP FROM THE COMFORT OF HOME FOR EVERYONE!
FOR THE KIDS: Clothing, All the Toys both Indoor and Outdoors, Baby Equipment, Nursery Items, Holiday Wear, NEW Items perfect for gifts, Furniture, Shoes, Accessories, Books, Movies and more. EVERYTHING you would see at any of our Kids Kloset sales. 
FOR THE LADIES:  Women's Clothing, Handbags, Shoes and Accessories
FOR THE MEN:  Men's Clothing, Handbags, Shoes and Accessories PLUS TOOLS! (not just for the men by the way)
FOR THE HOME: All Things Home Decor, Furniture, Holiday Decor and Sporting Goods! 
Our online sale is set up just like the sales floor of our in person events you are used to making it super easy to navigate.

 You will be emailed AND Text Messaged* an early access code 15 minutes prior to your time slot to get in. 

HOW DO YOU GET YOUR PURCHASES?
Option 1:  Curbside Pickup @ Hyatt Regency, 1717 Motor Parkway Hauppauge on March 18th ALL DAY/EVENING
Option 2:  No Contact Delivery to anywhere in Suffolk, Nassau or Queens (Sorry no deliveries to Brooklyn or the Bronx) Delivery Fee $10. Fee is paid one-time and not per order. 
* By entering your cell phone number and email at checkout, you consent to receive text messages sent by Long Island Consignment Events regarding codes to enter to shop, reminders to pick up your purchases and other reminder marketing messages regarding consignment sales.  Consent to these terms is not a condition of purchase. Message and data rates may apply. You may opt out of text and/or email at any time. To opt out of email, click UNSUBSCRIBE at the bottom of any email we sent. To OPT OUT of Text messages,  Text STOP to 41400 to cancel.