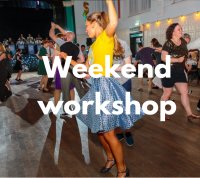 For the first time ever... The Swing Era brings you the 'Al and Leon Shim Sham'! Learn this exciting routine which covers a broad spectrum of authentic solo jazz moves, and will challenge you to push your dancing to a higher level. Al Minns and Leon James were two influential African American dancers from the Savoy Ballroom.
Level: Medium. Suitable for L2 and up*.
* If you are a L1 dancers but have done several solo jazz courses and workshops before you are also welcome to attend. Note: This routine might be slightly challenging.
Who (teachers): Suzanne Grubham. Suzanne is a professional dancer and choreographer of the Suzy Qs performance group, who has a wealth of experience in solo jazz and lindy hop dancing and teaching
Why attend? Work on:
- A real classic historic dance routine 
- A broad range of authentic solo jazz steps
- Challenging new steps and transitions
- Includes recap video
Suzanne will make sure you will really get to grips with this unique and historic routine, which will both broaden your solo jazz vocabulary as well as challenge your technique.
Dates: Saturday 13 and Sunday 14 March
Time: 11am-2pm each day (including lunch breaks)
(meeting opens a few minutes earlier to allow everyone to enter the class)
Platform: Zoom. After you book your name will be added to the attendee list. One week before the weekend workshop you will be sent the zoom link for the upcoming class. Your names will be ticked of the list when you virtually enter the class.
Tickets: £32 per person for the weekend workshop (5 hours teaching in total)

If you're struggling financially due to the current pandemic, but would like to attend please send an email to info@theswingera.co.uk
Requirements:
- Zoom on your computer or phone
- A reliable internet connection
- A space with a safe floor to dance on (not too slippy, ideally no carpet)
Tips:
Dance shoes or flat shoes, water, snacks, comfortable clothes, change of clothes, deodorant, towel
Video:
https://www.youtube.com/watch?v=Nb3iQhCEz4E