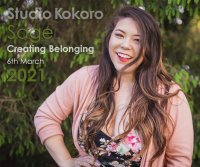 Creating Belonging: An Authentic Approach to Inclusion
What do we really mean when we say creating inclusive spaces? As a community, it's important to recognize and understand how our individual actions can impact the sense of belonging others feel in the spaces we occupy. This class will take us through an exploration of authentic engagement in kink spaces. We will explore the concepts of belonging, inclusion, and building spaces where people can show up as their full and authentic selves. This class will cover the ways we can individually show up to create belonging, no matter our role in the social ecosystem. This class is perfect for community members, event producers, organizers, and anyone else who is interested in creating better spaces for belonging. 
The class will consist of lecture/presentation, facilitated discussion, and Q&A.
About Sage
Sage (they/he/she) is a gender non conforming, queer, Asian person of colour, and a non-native English speaker. They fell in love with rope in mid-2013 and heavily identifies as a "Rope Daddy". Sage's rope journey has been founded in deep connections with partners, working as a team with her partners, and encouraging mutual growth in rope. Sage has taught at events/cons across North America and Internationally. He has a deep passion for education. Their teaching philosophy is deeply rooted in partnership, inclusion and student-cantered learning. Sage is currently a steering committee member for NARIX, a moderator for the rope bottoming share group, founder and leader of Start Here a group that educates newcomers into the community that spans across 3 states and actively educates on DEI (Diversity, Equity, and Inclusion) related topics both professionally and in the kink space. She holds a bachelor's in secondary education and a master's in non-profit leadership with a diversity and inclusion focus - working full time as an Equity change leader in the non-profit space.
Studio Kokoro Live Terms - Please read before purchasing your ticket

Please read this information about joining Kokoro Live. By purchasing a ticket you agree to the below information:
All events are scheduled for GMT timezone (London, UK Time)
Our classes take place at different times on different days, please check the time carefully for each event, times may vary even with the same presenter.
If you purchased your ticket via an event on FetLife, please note that FetLife changes the event listing to your own local time. Please use the times given in this ticket.
Tickets are 1 per house hold (assuming you are using the 1 zoom) if you need 2 zoom windows open, then you will need to purchase 2 tickets.
Budget tickets are for those with low income, freelancers, unemployed, UC holders, and anyone struggling financially.
These are live classes and not recorded, they cannot be viewed after the event itself, please consider this when purchasing.
Tickets are non-refundable / non-transferable to another class - you get the password and room information in your ticket so we are unable to refund / transfer if you cannot attend. Please consider this before purchasing your ticket.
You do not need to turn your video on and all microphones will be muted during the class.
You will need to download zoom (free) to access this class.
If you struggle with time-zones, you can use google or https://www.worldtimebuddy.com/ to help with this.
If you have any questions about attending a Studio Kokoro Live Class please see our Frequently Asked Questions Page before contacting us. It is very likely your question may be answered there. If you have any further questions please get in contact with us directly.
We look forward to welcoming you to this Kokoro Live Class.